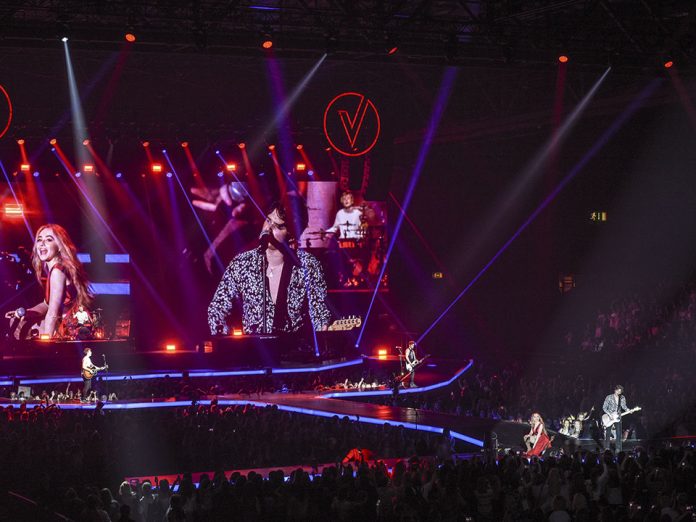 British pop-rock band, The Vamps recently completed a sold-out arena tour of the UK as part of the first leg of their world tour, before joining up with Little Mix as they head in to Europe at the end of May. Lighting, video and rigging technology and services were supplied by PRG XL Video—with lighting design by Peter Barnes and video content direction by Stuart Merser, using the latest must-have live image manipulation tool: VideoDust.
Created by Stuart Smith and his business partner Phil Woodhead, of Brighton based technologists Thundering Jacks, VideoDust is a user-friendly, intuitive tool for creating original video content in real-time from a live source. Stuart Merser has been the only video director outside of Thundering Jacks to use VideoDust/Cat combination on touring productions, he explained why he is such a fan: "I've been touring for over twenty years and VideoDust is one of the most impressive tools I've worked with. VideoDust gives me the ability to make, change, or manipulate content live, as a show is actually taking place. I can take a camera feed and run it through VideoDust, apply a number of effects and output the content to the main video screen—it's also reactive to light and sound, which makes it even more creative. On The Vamps, we took various audio lines and fed these into VideoDust to generate the effects we used. Everything was pre-programmed to timecode on The Vamps, this included the segments of the show which used VideoDust, but even though the effect was pre-determined, I manually manipulated the effect in a different way each night—that way, no two shows were ever the same, despite the fact it's all pre-programmed."
Smith explained how VideoDust came into existence: "My background is in gallery based, interactive visual art. In around 2011 I was invited to create some unique content for a Peter Gabriel tour, where he wanted to do some funky effects, with the image on-screen breaking into shards of glass whenever he moved his hand in a certain way. Word got around and people in the touring industry thought it would be amazing to have the capability to do stuff like this on more live shows. Shortly after that I met my business partner Phil Woodhead, who was working on Kings of Leon; I ended up joining the tour with a very early version of VideoDust—from which the effects were great, but it wasn't very user friendly. I came home and overhauled the whole thing, the concept of VideoDust is that it's a super easy-to-use tool with an iPad interface, that can be used as a creative tool for Video Designers and Directors."
Having been given a demo of VideoDust by both Stuarts prior to The Vamps show, the range of effects and manipulation level is impressive. For example, you can take video footage and break it into different shapes, rotate those shapes around three axes, change the colour and have it pulse in and out to the rhythm of the song—all controlled by really simple faders on an iPad. VideoDust is such a revolutionary modular plug in that Catalyst version 6 will include a copy of VideoDust, known as CatDust, when it is released later in the year."
The video playback surface for The Vamps was a colossal 33-metre-wide ROE F-12 LED screen, with additional LED panels on the band risers. All the content was driven through a Catalyst media server, with Stuart's mixing being done on a Black Magic 2ME desk.
LD Peter Barnes is a pop show lighting virtuoso and has lit The Vamps since their first theatre tour in September 2014. Discussing the layout of the lighting and choice of fixtures, Barnes commented: "The band wanted a giant video screen, as they'd seen another show with something similar—so we came up with a screen that's around 33 metres wide. The size of the screen means that all the lighting fixtures need to go either above or below it, which pretty much determined the style of lighting for The Vamps, with trusses over the stage and above the video wall, as well as lights lining the back of the risers below. Because of the amount of video, I needed something punchy to compete with the light output from the LED wall; I found that the Clay Paky Mythos and Icon Beam from PRG cut through the ambient light very well."