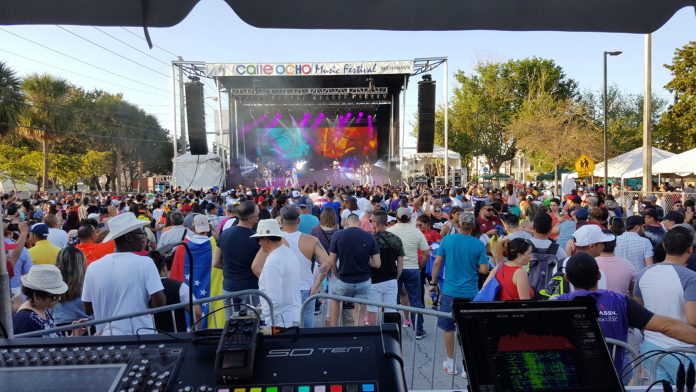 When the annual Calle Ocho Street Festival took place recently in Miami's Little Venice, it was headlined by Colombian singer, songwriter and producer, Fonseca.
For the past six years, the Grammy-nominated artist has been given full visual support by lighting and audiovisual specialists, 4 Sound Group.
The locally-based company annually provides the full technical infrastructure for this one-day street carnival, frequently calling on its inventory of PR Lighting fixtures.
Around 8,000 people turned up this year to see the so-called 'King of the Carnival' perform, and 4 Sound Group's lighting designer, Juan Miguel Sanchez, gave him a dynamic stage set that befitted the occasion. They deployed 16 PR Lighting Phantom 440, a versatile hybrid Beam, Wash and Spot combined, programming in all three modes to make full use of the Osram Sirius HRI 440W lamp and advanced optical path.
This gave them: 0°~ 2.8° angle In Beam mode, 2.8°~ 60° (Spot), and 10°~ 60° (Wash). These effects were complemented with 16 PR Lighting XLED 4022RZ, an extremely bright LED colour wash featuring 22x 40W (4-in-1 RGBW) LEDs.
The Miami-based production company has been a PR Lighting partner for the past three years. Of their decision to adopt the brand, company president, Joaquin Gonzalez, said;
"We particularly chose PR Lighting as our main brand for the quality of its equipment. The power and light output are incredible, and comparable with any other brand in the market. The local support of [PR Lighting US distributor] Mega Systems is very good, and for our part, we will continue to increase our inventory of PR products.
"All the artists' production teams, as well as the client were extremely satisfied with the
overall result of our stage."