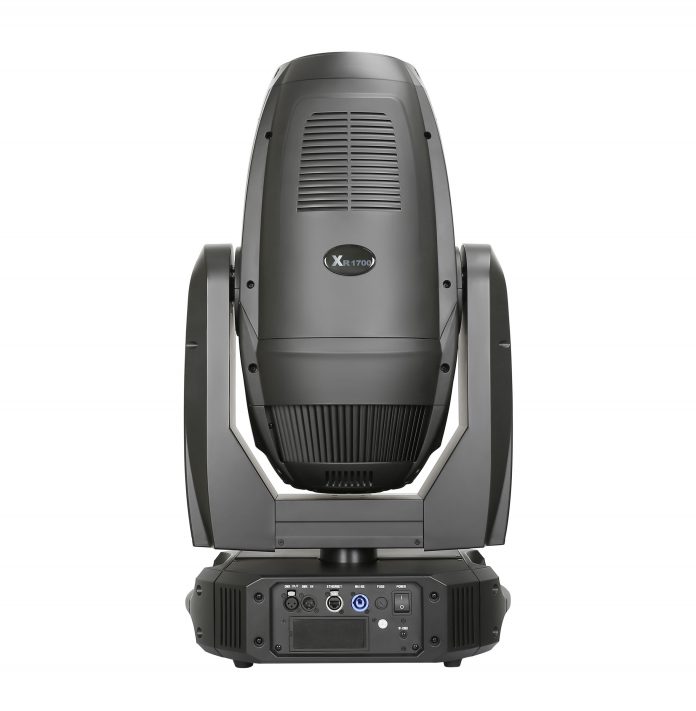 Flagship fixture offers endless rotation Based around the Osram Lok-it! 1700/PS highly efficient short-arc metal halide lamp, the XR 1700 Framing (PR-2887) represents PR Lighting's most powerful framing fixture yet, and the flagship in its range, producing unprecedented light output. Featuring four framing blades, it delivers a range of graphics in different sizes and shapes and a further four framing blades to give a full curtain effect.
The whole module offers endless rotation to provide unlimited versatility — a major breakthrough. This comprehensive fixture offers a number of advanced features, including CMY linear colour mixing system with macros Colour wheels offering seven colour filters plus open, half-colour effect, bi-directional rainbow effect with variable speeds, and stepping/linear colour changing, with a linear CTO system.
It also provides two rotating gobo wheels, each with six interchangeable glass or metal gobos (plus open)— all bidirectionally rotatable, scrollable and shakeable at variable speeds. Additional features include a 6-facet circular prism and 6-facet linear prism, with indexing, bi-directional rotation with variable speeds as well as two frost filters (one light, one heavy), with linear adjustment and both overlappable. Further dynamics are created from the two effects wheels, each with independent and bi-directional rotation, at variable speeds.
The dimmer is 0-100% linearly adjustable, as is the Iris (5-100% with macro), while the double-blade strobe offers 0.3-25 fps. The head can move through 540° pan and 270° tilt, with auto position correction, with a light angle of 5°-55° linear zoom, with 16-bit adjustment. Other functions include Adjustable pan and tilt speeds; Lamp and fixture hours display; Colour touch screen; Chinese and English menus; Brightness and contrast adjustable input signal isolated; Modular structure; Ethernet interface and DMX 512 wireless receiver (with optional transmitter). Housed in an IP20 chassis, it weighs 52kg and can be used either on the floor or hung upside down.