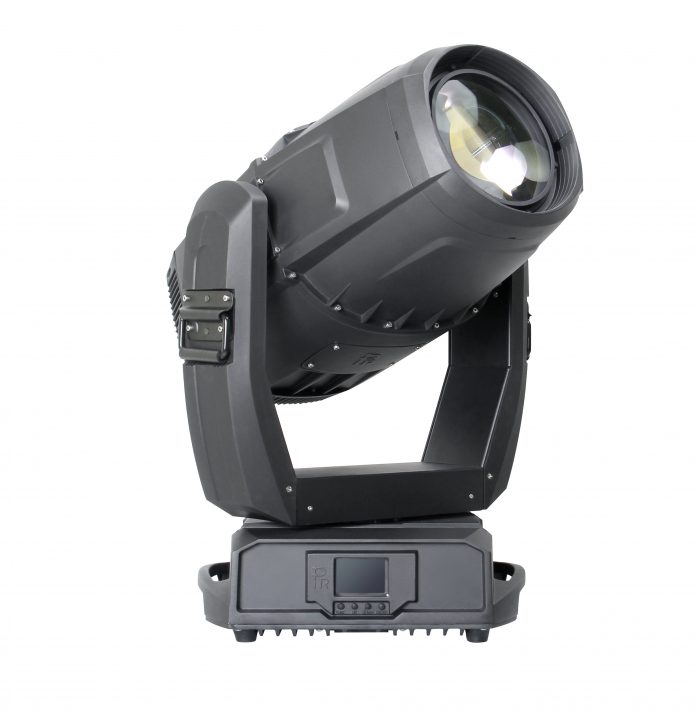 PR Lighting has introduced a new flagship to its popular IP66-rated AQUA range, with the release of the PR-2597 AQUA 580 BWS (combined Beam, Wash and Spot) and PR-2569 AQUA 580 Beam. These made an astounding debut at this month's Prolight+Sound Show in Frankfurt.
Housing the Philips MSD Platinum 25R (550W) lamp (with optional Osram Sirius HRI550W XL) this fully featured fixture, with PR Lighting's trademark advanced optical path, contains colour wheel with 12 colour filters (plus open), bi-directional rainbow effect at variable speeds, stepping/linear colour changing a CMY colour mixing system (with macro) and individual colour temperature adjustment 0-100%.
There is a fixed gobo wheel with 18 gobos (plus open), bi-directionally rotatable and shakeable at variable speeds, and a rotating gobo wheel with seven gobos plus open (gobo replaceable).
Further effects include a Prism wheel containing four prisms (standard 8-facet, 9-facet, 4-facet and gradient, with optional 3-facet and 16-facet prisms, bi-directional rotation with variable speeds. There is also an effect wheel which can overlap with gobos and again offers bi-directional, vari-speed rotation, and a Frost filter. The Focus and Zoom functions are motorised linearly and the double shutter blade strobe offers 0.3-25 fps.
Head movement offers 540° of pan and 270° (tilt) with auto position correction and adjustable speed. Light angles on the AQUA 580 BWS, are 2° (Beam), 2°-40° (Spot) and 3°-50° (Wash). Control is via DMX512, offering 23 channels in short mode, 31 channels in standard mode and 35 channels in extended mode.
Housed in temperature resistant cast aluminium, the fixture weighs 36.5kg. The AQUA 580 Beam offers a similar feature-set, with three prisms (8-facet, 16-facet and 4-facet) with optional 3-facet and gradient prisms, but crucially the light angle is 2°. Control is via DMX512, with 19 channels in short mode, 26 channels in standard mode and 29 channels in extended mode. Both fixtures will be ready to ship in mid-2019.