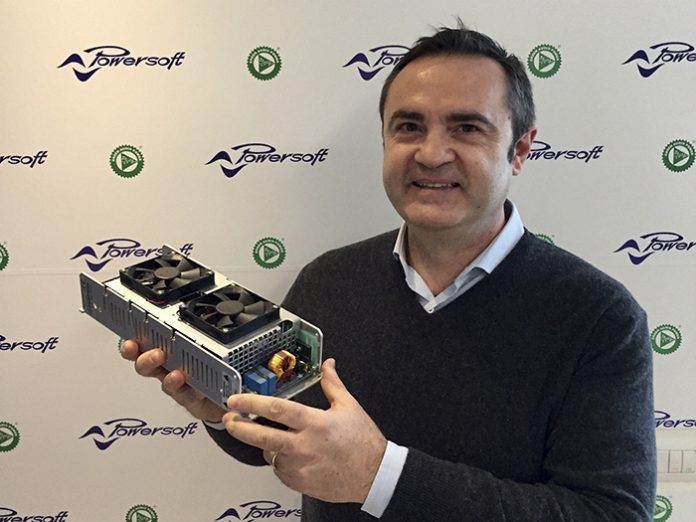 Powersoft has announced the appointment of Giacomo Previ as Sales Manager.
Previ will be based at Powersoft's HQ in Scandicci, near Florence. He brings with him 25 years of experience, knowledge and credibility amassed at leading companies in the pro audio industry.
Previ joins Powersoft from manufacturer Eighteen Sound, where he was in post for almost 15 years. Prior to that position he was sales and marketing manager for the company for over a decade, a role in which he focused on OEM customers worldwide.
In his new role, Previ will manage OEM sales around the world, exploring strategic business development opportunities and developing the roadmap of technologies and innovations for future market needs. Responsible for the P&L of the OEM Solutions Division, he will also manage the sales support team of 6 people, and work closely with customer care and marketing to guarantee service levels and exposure in the market – as well as directly managing some key accounts to support the regional sales managers.
The latest Powersoft recruit commented: "It's a great honour for me to join the Powersoft family and I can't wait to introduce OEM customers to the most innovative products available on the market. Powersoft simply offers the best amplifier solutions to the pro-audio industry thanks to its unique mix of technological vision, product quality, long term reliability, high performance and unrivalled manufacturing capability, and I have no doubt that the exciting new product roadmap will further reinforce its position. My years of experience have given me a deep understanding of the OEM customer business and I am committed to building relationships with partners old and new based on mutual trust and strong cooperation, taking Powersoft's successful operations to the next level."
Luca Giorgi, Sales and Business Development Director at Powersoft, added: "Giacomo is a fantastic addition to our team and I'm delighted to welcome him on board. His professional background combined with his strength of character makes him the perfect fit for the team as we take on the challenges ahead in an increasingly competitive marketplace."
Giorgi concluded: "With customer experience front of mind, Giacomo will ensure our commitment to a true end-to-end partnership is something we live and breathe, leaving partners in no doubt that Powersoft is the only brand to offer a comprehensive, best-in-class solution."