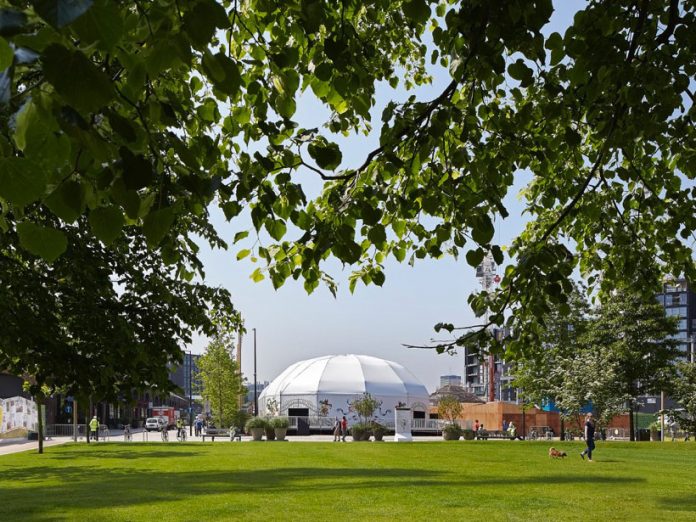 Hyundai's Football Heaven, in an upgraded Star Events' Orbit structure, was exactly that for expat Portugal fans as they saw their national team defy the odds to overcome hosts France and win Euro 2016 in Sunday's final.
The broadcasting of 45 European Championship matches in the Hyundai FanDome was a first for Lewis Cubitt Square, the new civic space behind King's Cross station, with production company Produce calling on Star Events to design and deliver the structure, enveloping a 360° screen. 45,000 tickets were available for free via Ticketmaster over the course of the tournament.
The modular design of the Orbit Flexidome stage brought the best out of the small site, its roof comfortably accommodating over 500 sq metres of projector screens, lighting and sound. Star Events fitted the whole building with a new acoustic barrier system, lowering the external volume by around 30dB, an integral element in securing licensing approval for a six-week event in an urban area.
"It was a technically challenging job, with many layers of complexity," Gav Scott, Star Events' Project Manager explained. "Not only was the screen required to run right around the room, with multiple compound angles to enable all the sections to be angled down at the audience, it had to be sized perfectly to fit within the Orbit canopy. That required an intricate design process and some extremely accurate rigging. But, just like Portugal, we got a fantastic result."
Star Events' major re-engineering of the Orbit Flexidome eliminates loose sheeting, essential for the printed graphics at Football Heaven, and makes the structures easier still, and safer, to construct. Given the huge success of the new technology, the company is rolling the changes out across its Orbit stage range, from 14 metres to 22 metres main roof widths, with an eye towards equally ambitious sporting and musical events in the future.