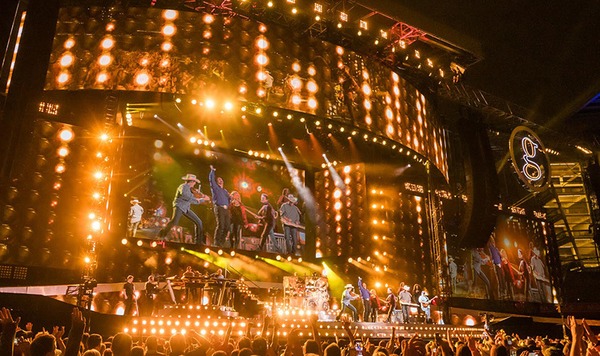 Bandit Lites, the world leader in concert lighting, celebrated its 50th anniversary with a nomination for Pollstar's Lighting Company of the Year.
The 29th Annual Pollstar Industry Awards takes place 8 February 2018 as the conclusion to Pollstar Live! 2018. The awards celebrate all aspects of the entertainment industry including vendors, festivals, venues, touring artists and management and are both peer nominated and voted.
As a widely circulated trade publication, Pollstar covers the professional concert industry news including box office reports, tour schedules, in-depth articles and reviews, photos and contact directories.
Bandit Lites are the only company to have been nominated each year since the awards inception and has been honoured as Lighting Company of the Year on 6 occasions. The latest nomination comes following a spectacular year lighting artists such as Garth Brooks, Alice Cooper, Kansas, The Moody Blues, Widespread Panic, Barry Manilow, Chris Tomlin, Toby Keith and Little Big Town.
In addition to Bandit Lites, additional fellow Pollstar nominees include Bandit clients such as Garth Brooks (Major Tour of the Year), Bonnaroo Music & Arts Festival, (Major Music Festival of the Year), The Fillmore Philadelphia (Nightclub of the Year), Ryman Auditorium and The Wiltern (Theatres of the Year).
Bandit Chair and Founder Michael T. Strickland, commented: "It is always an honour to be recognised by our peers with this prestigious nomination. The great team at Bandit works tirelessly every day to deliver the best people and service possible and this nod makes it all worth wile. We wish to thank all of those who trust us with their dreams and visions. We promise to always deliver. In 2018, our 50th year, we are particularly proud to be recognized as being at the top of the industry after so many wonderful years. Thank you!"