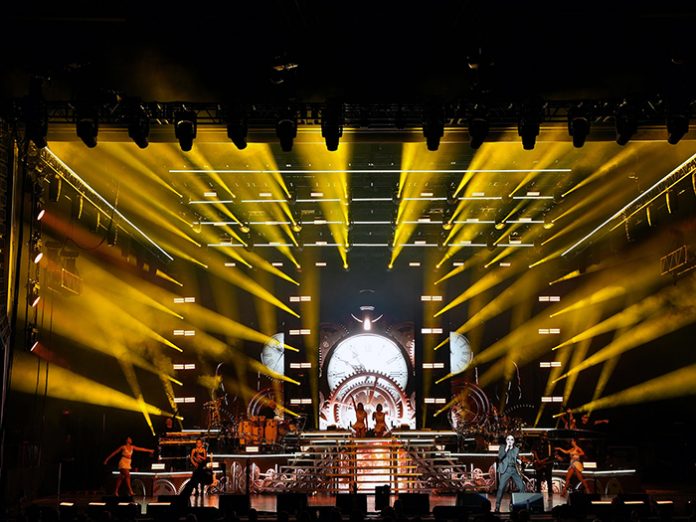 Miami, Florida-based Creative Director, Yamil Charif of YC3 devised a high-impact stage production for Pitbull's 32-date I Feel Good Tour with 100 Robe moving lights – MegaPointes and BMFL WashBeams – as the backbone of the lighting rig, under the production management of Victor Martinez.
The tour's lighting, video and rigging vendor, LPS Production, provided the arsenal of Robe fixtures. "Robe have been at the top of their game for the past few years and produced a steady stream of good and reliable products," Charif commented, citing the importance of 66 Robe MegaPointes and 34 BMFL WashBeams on the rig.
BMFL WashBeams were used for key lighting and specials, while the MegaPointes – positioned in the overhead rig and on the floor – provided helped create effects and bold looks. "As the main fixtures of the lightshow, MegaPointes were chosen for their multifunctionality and scope as a creative tool," Charif remarked.
Overhead MegaPointes were alternated with strobes used for wash lighting. The stark contrast between the two light sources added to the depth and texture of the lighting design.
Charif explained that keeping streamline was of paramount importance. "The show has to look good and be as sustainable as possible in terms of power consumption and other factors like being straight-forward to build," he said, which was essential for an amphitheatre tour with multiple back-to-back tour dates.
The start of stage design was a 'landing platform' – a triangular shaped drums / percussion riser from where he also enters and leaves the stage – and immediately in front of this is a set of custom transparent steps. Charif was assisted in the scenic design by Stage Architect, Gustavo Perez.
On the video front, Charif worked closely with Jose Antonio Bermudez and his Kyo Productions crew, who created video content and mood boards, interpreting Charif's show script and directions. The lighting and video programming team was led by Charif's brother, Elian along with Tomas Villanueva. "It's almost like he knows how I am thinking and he's programming the atmosphere and vibe of the look or scene as I am thinking it," the creative director said, when asked about working with his brother.
The trio previsualised the show in Capture using MVR files from Vectorworks. The show files were then transferred to the touring consoles ready for production rehearsals at Wastco Center, Miami in August 2021. Rafael Imitola joined the show programming operation towards the end of production rehearsals and while Charif's younger brother, Khalil, assumed lighting operation duties on the road.
The LPS lighting crew comprised Master Electrician, Sam Deshauteurs; Lighting Technicians, Deniel Castañeda and Santiago Sharry; Video Director, Carlos Rojas; Video Technicians, Julio Cesar, Alejandro Rojas and Eduardo Villanueva; Camera Operator, Luis Rodriguez and Head Rigger, Manny Garcia.