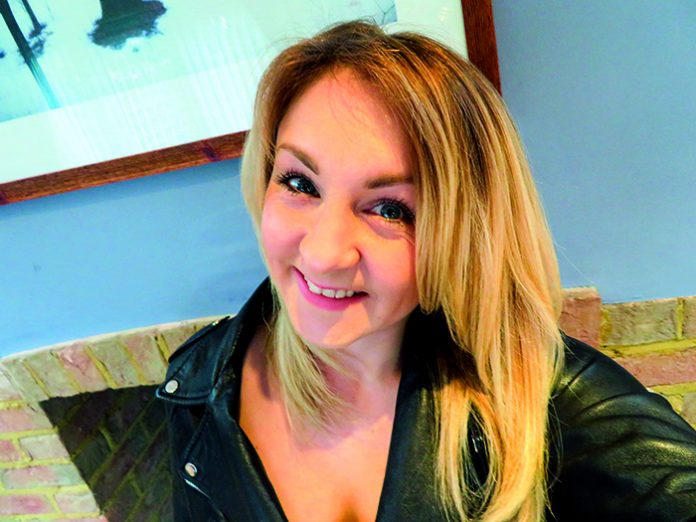 TPi talks to Amber Etra of Philips Entertainment Lighting about her new role as the company's Product Application Specialist for Touring.
Amber Etra is a dynamo, carrying the same positivity and passion for entertainment lighting through every role in her career to date. As followspot operator on The Lion King, theatre lighting crew, touring crew, console trainer for Europe and head of UK and Ireland sales, Etra has thrived in the industry and with its people.
Her new role at Philips Entertainment Lighting is as Product Application Specialist for Touring. This latest step in her career will bring her into daily contact with those at the creative leading edge of the business she loves.
A graduate of Mountview Academy's Technical Theatre degree course, Etra had worked in various theatre lighting roles before deciding a different tack. At a London trade show, she visited the Strand Lighting stand, where she encountered an unsuspecting Alan Luxford and Bill Richards. "I was interested to see where their consoles were going at the time," she recalled. "They'd just released the Palette series – we had one – I was programming on it – so I went and shook hands with Bill and Alan and said 'I'd like a job, please'."
So Etra's learning curve continued, first as a product assistant to Richards ("I learned a lot from Bill," she said), then as console specialist and Strand Lighting's European trainer. "I'd go out to Dublin and train 27 people at a time on the Palette… I did all the technical training throughout Europe." 
A challenging role for a 22-year-old, perhaps, but Etra was too busy making friends to be daunted. "The industry's so friendly, I think that's what hooks you in, and that's what it's always been about for me, the people and the relationships."
As part of the Genlyte Group at the time, Strand was already a stable-mate of Vari-Lite, but operated separately. After Philips acquired first Genlyte in 2008 and then Selecon the following year, the process of integration began with the combination of the Selecon and Strand teams. "I began to learn additional portfolios, and I gained great new colleagues, people like Ritchie Reid, Michael Goldberg and Jeremy Collins," said Etra.
Then Vari-Lite came into the fold, the 3 brands forming the core of the Philips Entertainment Lighting portfolio. Of that process, Etra recalled, "We saw people come and go, but there were always those who remained passionate about the brands, who were strong influences on where we needed to go as a business and how we needed to serve the customer base… Everybody on the team has persevered to get us where we are now."
On a personal level, Etra has been able to grow within the company as her own circumstances changed, especially when she and husband Tom started their own family. "When I had a baby and I needed something different, they adapted to suit me. When I wanted a new challenge, or more training, or to learn a different department, they have always helped, and that's the team ethos. I love the team I work with, they're what makes coming into work every day fun."
For her employer, Etra has been well worth adapting for. A natural accumulator of knowledge and contacts, she has developed an impressive expertise and carved out an important role in her team as a connector and a facilitator, as well as building relationships with key creatives and decision makers throughout the industry. Her role for the past year in marketing has further added to that big picture understanding. "If I could send everybody in our company on a marketing course I would," she said. "It underpins every part of what we do as a business."
This combination of skills makes her new role something of a perfect fit. The aim, Etra explains, is to work more directly with designers and to make sure they can get the products, the help and the support that they need. As a conduit between manufacturer and creative, Etra has much to offer. "I always enjoyed getting my hands dirty, being part of a lighting team. It gives you an understanding of why you might do something a certain way, but it's also important to understand other people's perspectives. It's not necessarily about how you achieve something, it's about that end goal. We're all there to do a job, which is to make something look fantastic."
It's clear from the way Etra talks about the people in this business that they are her first priority. "I'm honest," she said. "I'm not going to jeopardise my personal and professional relationships by telling them something that isn't true. If a product's not right for them, I'll tell them. Giving the wrong product for the job is not good for anybody involved."
In her new role, Etra has been given a clear strategy for the company's commitment to concert touring and live events. She now spends time working with the creative teams, helping to spec tours, special events and TV shows, ensuring that designers get what they need and also that their feedback and insights are fed back into the product development team. "We want them to know we're there for those conversations and to help with their user experience – from design, to touring and all the backup, but it's also about making sure the products we're bringing to market are relevant, that there are real reasons for making something."
Of course, when it comes to product development, an organisation of Philips Entertainment Lighting's stature offers many advantages, not least R&D access to the renowned design campus in Eindhoven. "The team there are working on things which are completely mind-boggling in terms of technological advancements," said Etra. "There are things in the pipeline which will give a whole new perspective to Philips Entertainment's importance to our sector."
In the meantime, Etra will be making time for her ever-growing number of colleagues and friends in the business, and ensuring they get the best out of their dealings with the company and its product ranges. "If somebody rings up and said 'Etra, I want to see you for a cup of tea', then I'm there with the biscuits!"
TPi
www.lighting.philips.com/main/products/entertainment-lighting