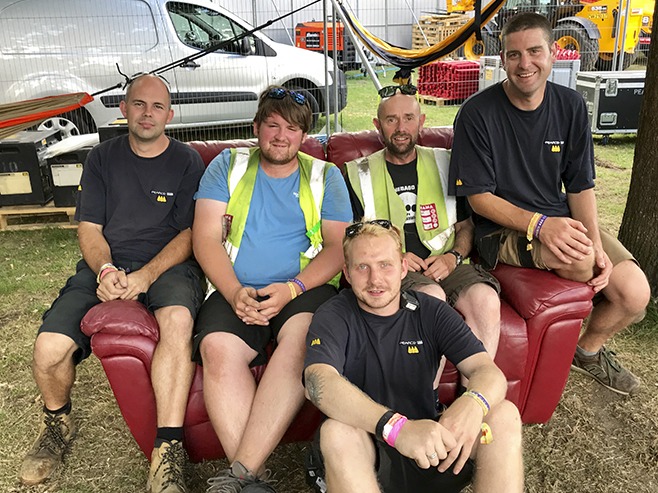 Pearce Hire continued its partnership with MAMA Festivals (a Live Nation company) as a long-term contractor at the festivals, supporting the festival re-location with its temporary power infrastructure and site lighting services.
Jake Vernum, Project Manager for Pearce Hire, explained: "At Pearce Hire we relish a challenge, and know the team at MAMA Festivals incredibly well – this being our 8th year working with them on these festivals. With a well-established format for Lovebox and Citadel, we needed to ensure that we played our part in providing a seamless transition for these large events as they moved from Victoria Park, East London to West London.
"We've been focussed on ensuring we gave exceptional support to the MAMA team throughout the moving process and on-site at this new venue. We are keenly aware that our services were integral to ensuring Lovebox and Citadel offered as good, if not a better experience for the 40,000 festival goers attending each day across the 3-day event."
Gunnersbury Park was an unknown variable in terms of hosting a major inner-city festival of this size, and so detailed planning for power and site lighting infrastructure was critical from the start of the process.
The undertaking was not insignificant – with 7 stages, 15 bars and concession facilities, VIP areas, backstage working areas and production village, a small campsite for festival staff, and important brand sponsor to accommodate. Pearce Hire sent in a core team of 5, increased to a dozen crew for build and break and spent almost 3 weeks on site.
"Working across a new site was the biggest challenge this year" reflected Vernum. "The site was really pleasant, and whilst it was smaller in footprint it was very spread out and safety and crowd management was at the top of the list – we needed to ensure our site lighting supported the ingress and egress points and we needed to be flexible in our approach to change things as required by health and safety. We provided 30 tower lights across the site and 100% LED festoon to ensure all site areas were sufficiently lit".
Vernum continued: "From a power point of view, we had several generator locations with both standalone and full synchronised sets. In total there were forty generators across the site. We really scrutinise the spec from our client and make sure we keep the generator sizes and numbers down to improve efficiencies. And of course, we do all the usual monitoring of power consumption in order to advise on ways to improve consumption and generator provision going forwards.
He continued: "As well as ensuring the site is safe and secure for the festival goers, we need to ensure our crew are safe and looked after. It's long working hours, and in the exceptional weather this summer, crew welfare becomes even more of a priority. If you treat your crew well, then it makes for a happy work environment and reflects on the job and the service we provide. Our working space at Lovebox was bigger than usual, and this is better for the crew.
"There was even space in our boneyard for a sofa and a hammock for outdoor living! We have an excellent pool of freelance crew who Pearce Hire call upon to support the permanent team during busy times, some of them have been working with us for years as regulars – they are great crew and so we make sure we look after them and they repay us with their loyal service year-on-year."
MAMA Festival's Production Director Dave McCalmont commented: "Pearce Hire's professional approach to our brief is perfectly pitched. We've always considered them to be an integral part of our team, rather than an external contractor. We trust Jake and the team implicitly with the temporary power and site lighting for Lovebox, Citadel, and other events. You know that their attention to detail will ensure reliable service of the highest quality and they've been a big part of the planning in the venue change."