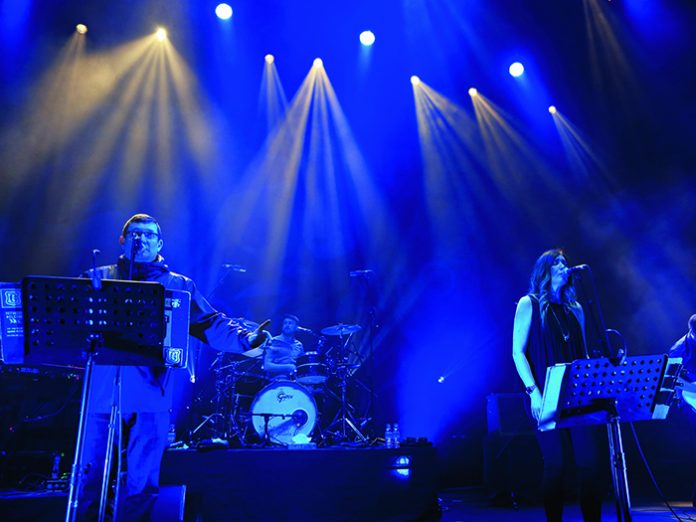 With a habit of selling out gigs in their native Britain, former The Beautiful South stars Paul Heaton and Jacqui Abbott embarked on a UK tour in support of the 2015 album, Wisdom, Laughter and Lines. TPi speaks to Lighting Designer Patrick Sollitt and Production Manager / Tour Manager Tom Sheals-Barrett about utilising a Robe-heavy rig, and the technical success behind the tour.
British artist Paul Heaton has been penning catchy songs for his entire career, earning himself a reputation as a hit maker and a humble frontman. Alongside former The Beautiful South vocalist, Jacqui Abbott, the pair have once again proven their incredible popularity with gig-goers of all ages up and down the British Isles. The feeling is extended backstage, as Tom Sheals-Barrett – who undertook both TM and PM duties for this tour, explained: "It's a really good vibe in the camp; great band, great crew and bloody great shows! They are so well-received every night it's hard not to finish the day with a smile. Both Paul and Jacqui are very down to earth and self-sufficient, which is why taking on both the TM and PM role was possible."
It was Sheals-Barrett's idea to ask the tour's Lighting Designer, Patrick Sollitt, on board. Sollitt told TPi: "I had previously worked with Tom on The Waterboys' tour, and when he asked if I'd be interested in this gig, of course I accepted – who wouldn't?
"It was however, quite a challenge when thinking about how to begin creating a new look to a band that has – in different guises – been around since 1983, from The Housemartins to The Beautiful South, Paul and Jacqui have got a lot of fans who are used to seeing them live due to their lengthy careers. My design was a four-truss rig, and while it's not reinventing the wheel, it gave a large platform to use new technology so that I was able to create some big, hopefully memorable looks to augment the experience for the audience," he stated.
The fixture choice was predominantly Robe units, comprising 30 Robe Robin 600 LEDWashes, 12 Robe BMFL Spots and six Robe Pointes. Said Sollitt: "They just work for me and provide reliable, bright units, which are available globally. The BMFL Spots are – in my opinion – without a shadow of doubt the best spot on the market. So much light comes out of those fixtures. And they have some great stock gobos, which means you can experiment with all kinds of different looks.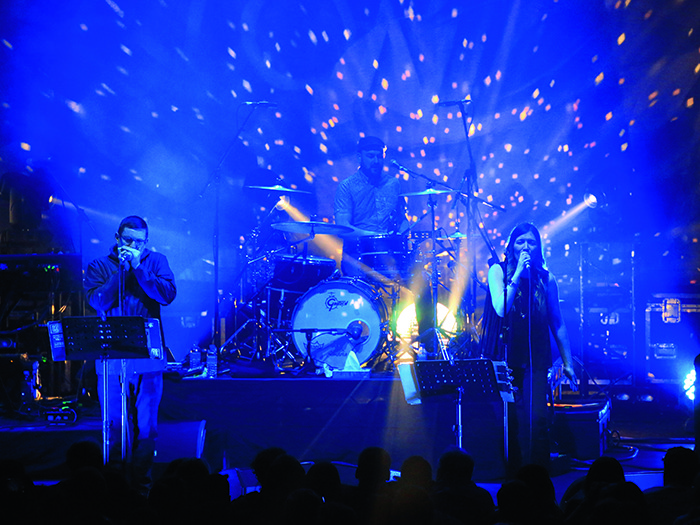 "The Pointes are also so much more than just a beam. You can get so many beautiful effects out of them, quite the opposite of a one trick pony – my favourite effect is the liner prism. My decision to use the 600 LEDWash was simply because you'd be hard pressed to find a better LED wash unit; they just do so many colours perfectly, whether you want a bold, saturated palette or pastel shades, that wash won't let you down."
The lighting rig was completed by six Martin by Harman MAC 700 Profiles, 15 generic 2-Cell molefays and six generic 4-Cell molefays. "Just before the tour started I had a little brainwave and added a half mirror ball into the song Rotterdam. It was a perfect fit and pulled off a stunning, strong look for one song."
Using a ChamSys MQ100 Pro desk and playback wing for control, Sollitt explained the origin behind his choice: "I was at a tradeshow in 2007 looking at consoles when Richard Larkum [LD] suggested I took a look at the options with a ChamSys desk. Turns out they were perfect for me and my lighting style and I have been using them ever since!
"I hadn't had much contact with Audile before this tour so I was somewhat unfamiliar with them. The nice surprise was that they not only provided a very good lighting package for the tour, but Rob Ashworth [Audile's MD] was very helpful in all respects. The crew he sent – Phil Woodbridge, Crew Chief, and Tim Hawes, Lighting Tech, were very good. And, despite not having a pre-rigged truss, they got the rig up and running every day really quickly."
Sheals-Barrett added: "As ever with touring, it's very often budget-led but Audile are very easy to deal with, have great crew and great kit. From a production manager point of view, it reduces the workload by having everything come from one source. There are loads of great suppliers out there and I would always err on the side of quality and ease, rather than just price alone. However, the decision is not always mine to make! The quality and clarity of a quote or tender is a key thing for me."
Once the supplier was in place and the design had been finalised, what did come as a bit of a head-scratcher for Sollitt was the technical challenge of going from venues such as the 800 capacity Wexford Opera House to the Leeds First Direct Arena, with a 14,000 capacity. The challenge was undertaken with poise, and the shows gained rave reviews. Sollitt continued: "My personal highlights were Glasgow Academy (how can 2,000 people make so much noise?) and Leeds, because it was a sell out show in my home town." It was also the first fully sold out gig in the arena this year.
Sollitt continued: "The entire 21-date UK and Irish tour sold out, which proves that fans of the band are still there and loving their live shows. That continues backstage too; it's a really close-knit touring party and we all had a lot of fun on this tour!"
The sentiment was echoed by Sheals-Barrett, who concluded: "I thoroughly enjoyed working on this tour too. At the end of the day, if the artist and crew are easy to deal with and the shows are a success, you can't help but be happy. And that's definitely been the case with this tour."
TPi
Photos: www.isphotographs.co.uk
www.paulheaton.co.uk
www.backonyourheads.co.uk
www.audile.co.uk
www.robe.cz
www.martin.com
https://secure.chamsys.co.uk