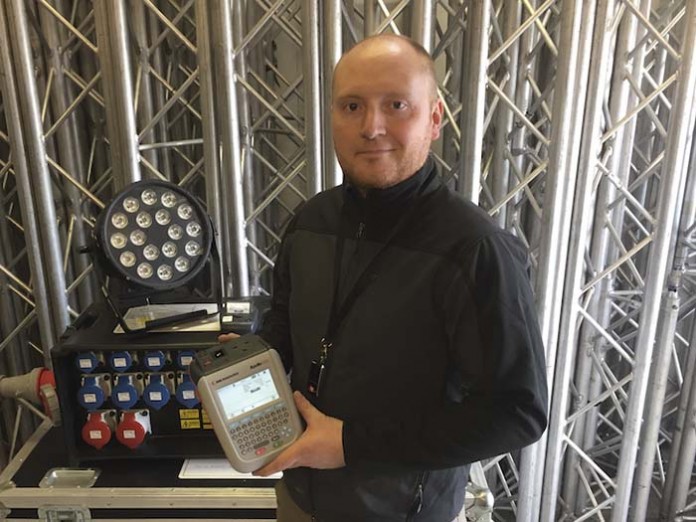 An integrated asset management system with electrical safety testing at its core is helping a leading supplier of technical services to outdoor events and festivals meet its quality control and safety compliance obligations.
The team behind Figure of Eight Events has had roles in many major music events such as Glastonbury and iTunes Festival with involvements in a wide range of similar high profile public events such as the Olympic Games and Formula 1, both at home and abroad.
The company provides technical services and support for events, including the supply of power, sound and lighting systems, in addition to staging, rigging and set design.
As part of a continual development in its quality control and compliance procedures, Figure of Eight Events has recently equipped itself with a Seaward Apollo 600 appliance tester to verify the safe operation of all electrical items, distribution equipment and cabling.
With thousands of assets, Figure of Eight Events uses the PATGuard 3 software to keep a computerised register of all equipment. This software tracks the maintenance, test status and location of all electrical items utilised by the company. The software is also used to keep records of ladder inspections and rigging equipment.
In addition, the integral camera in the Apollo 600 also allows images taken during inspection or repairs to be tagged against test reports to enable fully traceable record keeping and quality control to be maintained.
Rich Rayner, director of Figure of Eight Events, said: "Our reputation in the industry relies on the effectiveness of our quality control procedures and on going compliance with various legislative requirements. We test extensively onsite with the equipment in its environment, carrying this out combined with routine PAT testing gives us an exceptionally reliable product.
"Our events calendar grows each year to the extent that we do not stop until early January when we remove winter ice rink projects. This puts even more pressure on us to clean, check, test and document our assets before the next event season begins. The Apollo 600 coupled with the Test n Tag printer allows us to do this incredibly efficiently with minimal fuss and maximum options."
Automatically produced test certificates and reports gives dry hire customers full confidence in the quality and safety of the products supplied. It also enables the company's technical teams to schedule new testing, repairs and maintenance whenever they are required.
Rich Rayner said: "The new test system not only ensures that we meet all of our safety and quality standards, but is also enabling us to manage our technical requirements much more efficiently, bringing considerable operational benefits to the company."