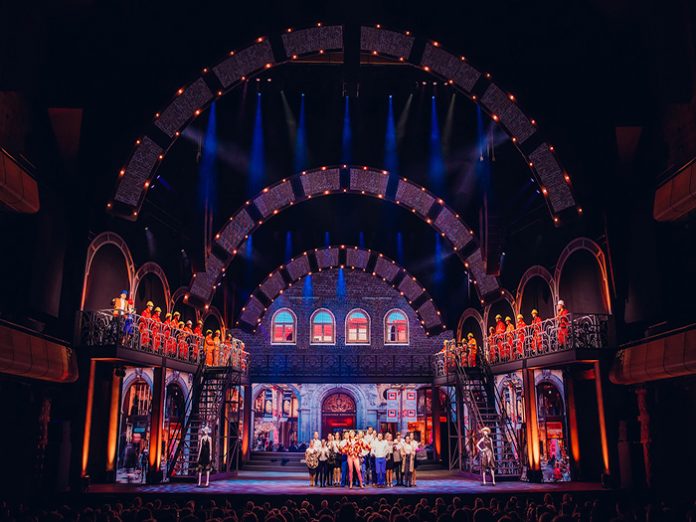 Painting with Light has produced a vibrant, inventive visual solution for Zoo of Life a production directed by Luc Stevens to celebrate 175 years of Antwerp Zoo, staged at the new Queen Elizabeth Hall venue in Antwerp, Belgium.
The team from the Genk based creative practice was led by Luc Peumans. Painting with Light's project manager, Wouter Verhulst commented: "Normally you might have two weeks to build a production on this scale and ambition, but we had just three days and nights!"
With this time restriction in mind, the set is composed largely of digital scenic elements and was designed in conjunction with Carla Janssen Hofelt.
The Painting with Light brief also included editing special video material shot by Mathieu Marck of Arendsoog (Eagle Eye) from around the Zoo, and combining this with new graphical content produced by Painting with Light's Sina Sohn, Jos Claesen and Arthur Claesen. This was all compiled and programmed onto a disguise server.
Peumans designed the lighting and the company also provided lighting and video control for the show, an appealing contemporary tale about the Zoo and the love and loyalty that exists between animals and humans, complete with a volunteer cast of around 600 who joined professional actors onstage.
With up to 120 people onstage at times, the stage floor needed to be kept as clear as possible of physical elements. The complexity of the narrative galvanised everyone and demanded the high impact video design, which allows the action to flip between multiple locations and scenes.
Using the disguise visualisation tools in this way also meant that video content could be tweaked and edited in Painting with Light's studio to Luc Stevens' exact requirements as he worked through the action.
The digital scenery features a large 8 mm LED screen upstage, two long side screens 4 metres high and running the depth of the stage, two sets of LED-clad stairs and a quantity of video panels fitted to three structural arches above the stage of the theatre's main auditorium.
A Pepper's Ghost effect was set up for one scene, utilising a 30K Panasonic laser projector shooting onto a special scrim, to create ephemeral holographic images of a Gorilla and an Okapi.
Mathieu Marck's footage also captured some well-known Antwerp landmarks from in and around the thriving port city and commercial hub. All the video content was programmed onto the disguise by Painting with Light's Katleen Selleslagh.
The lighting rig comprises around 130 fixtures including 24 Martin by Harman MAC Viper Performances, 36 Viper Profiles, 64 Phlippo's URC 210 LED washes and 12 URC zoom LED battens, all controlled via an MA Lighting grandMA2 console programmed and operated by Ivar van Dijk from Painting with Light.
Integral to the technical and creative success of the production were Painting with Light's production manager Jeroen Vinck and Zoo of Life's stage manager Koen Beliën.
Peumans concluded: "We are all really proud to be part of this production. It's hugely exciting working in this fantastic new space, and to be involved with such a popular and iconic local landmark as the Zoo. There's been lots of camaraderie, and in spite of the many challenges, everyone from all the departments has been united and determined to produce something really special and memorable".
The show's lighting equipment is being supplied by leading Belgian rental company Phlippo Productions and the video by Pixelscreen.
www.paintingwithlight.be