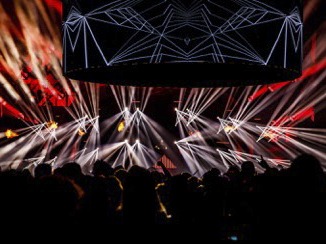 Seven halls of Amsterdam's RAI expo centre hosted an annual two-day event for a well-known brand. The technical production – lighting, audio, video, rigging and special FX for all areas was delivered by Breda based Unlimited Productions B.V., who sourced over 600 Robe moving lights for the occasion!
Several lighting designers were involved, working under the supervision of Unlimited Productions across the different areas with their own Bert Kelchtermans designing the general plenary session in Hall 8 for 7000 people.
Michel Suk lit the three food halls and two smaller presentation spaces, while André Beekmans from The Art of Light, well known for his work with EDM superstars like Armin van Buuren and Hardwell, plus renowned dance music LD Ronnie Santegoeds from 4Light put creativity and flair into ensuring the party area was a memorable and fun visual experience.
Bert works full time for premium corporate / public event specialist Unlimited Productions founded in 2009, which has produced this event together with event agency MCI Amsterdam for seven years. For this edition, MCI was responsible for the concept of the food lounges and party area. Each year the event has grown and become more technically ambitious!