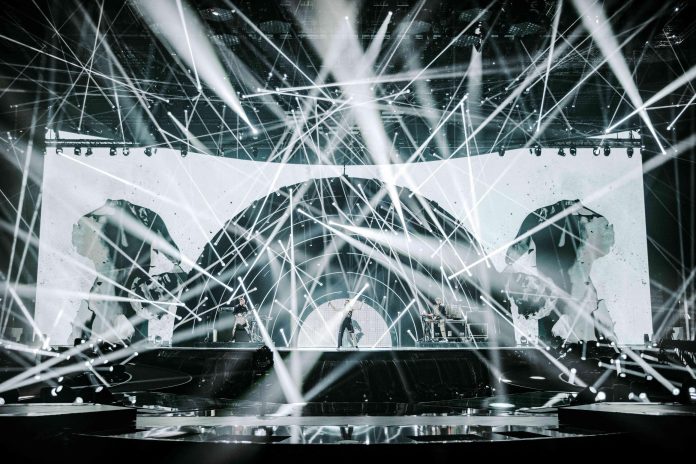 The 66th edition of the Eurovision Song Contest was held by the EBU (European Broadcasting Union) at the PalaOlimpico in Turin. RAI RadioTelevisione Italiana, as host broadcaster, took the lead in setting up the stage, which this year revolved around an ambitious new stage concept based on the light of a kinetic sun, designed by Francesca Montinaro. The multilevel stage set-up was complemented by spectacular waterfalls, large LED video walls and – as always – an impressive array of lights.
Over 400 Claypaky lighting fixtures, including 120 Sharpy X Frame, 64 Xtylos, 25 Mini Xtylos, 42 Arolla Profile HP, 25 Stormy CC and 144 Sharpy Wash units were harnessed during the show. Particularly prominent among them all were the new Claypaky Sharpy X Frame hybrid lights, which flanked the two side catwalks that led from the upper stage down to the stage below.
Claypaky Xtylos fixtures were arranged along the two top side edges of the structure and were particularly visible in the fanned-out coloured light that cut through the audience. They also had the essential task of creating the lighting effect that accompanied the presentation jingle at the beginning of each song.
Claypaky Mini Xtylos HPEs were fitted in unusual places: thanks to their great compactness, they were installed inside the stage-side trapdoors, from which sharp blades of coloured light shot out. Claypaky Arolla Profile HPs and Sharpy Wash 330s were placed around the stage and the venue and played multifarious roles. They provided side and back lighting for the artists, and wash lighting for the green room.
The event was directed by Duccio Forzano and Cristian Biondani, and Mario Catapano was the lighting director. Claypaky CEO, Marcus Graser commented on a landmark project for the region: "The world's most impressive musical show used our lights once again this year. The lighting designer chose a wide range of Claypaky units, including profile spotlights, hybrid fixtures, beam moving lights, washlights and strobes. The fixtures used various light sources: LED-based, laser-based and discharge lamps. This speaks volumes about the wide variety of versatile, reliable lighting solutions which only Claypaky can currently offer the market."
The lighting systems were provided by Calvini Light Equipment Service, based in Taggia (Imperia), and Sound D-Light from Pesaro.