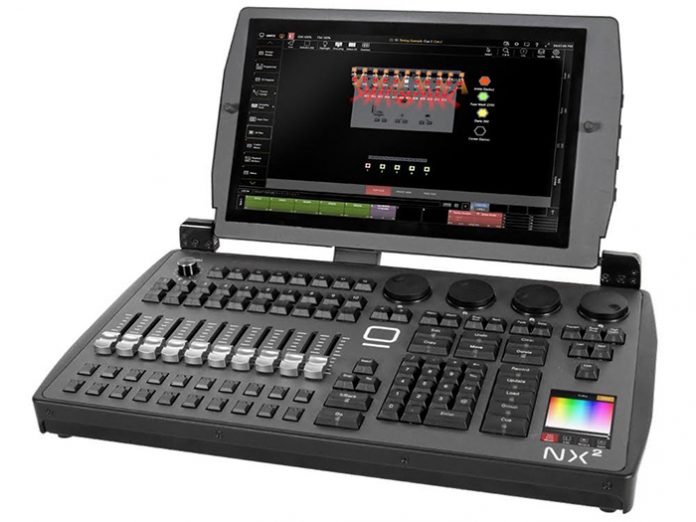 NX 2, NX Wing and NX DMX ready for demo at LDI Booth 1135. Obsidian training to be held 19-20 October 2018 at Las Vegas Convention Center.
Obsidian Control Systems will be showcasing at the LDI Show in Las Vegas October 19-21 the first three lighting control products under the ONYX lighting control platform. Designers, programmers and operators are invited to Obsidian Control Systems Booth 1135 for a first look and hands-on demo of the extremely powerful NX 2, the portable NX Wing and the convenient NX DMX.
NX 2: The powerful NX 2 is the ultimate compact yet fully-integrated lighting controller with all the connectivity and power the ever-increasing size of shows demands. As a member of the innovative ONYX platform from Obsidian Control Systems, the NX 2 is feature rich and never restricted in its capabilities. NX 2 offers a slate of professional features like a high brightness, full-HD multi touchscreen, 8 assignable parameter encoders, an assistive mini touchscreen, full keypad and command section, a dedicated grand master, and 10 full playbacks with four freely assignable buttons. Utilizing the latest in industrial components, the NX 2 contains a powerful Intel Hexa-Core processor, high-speed NVMe SSD drive and 16GB of DDR4 RAM. Fast boot times, instant operation and the ability to process 64 Universes right inside the console without the need for costly external processing networks result in unprecedented power in this small form factor.
NX Wing: NX Wing is the complimentary USB control surface to Obsidian Control Systems' ONYX platform. Based on the NX 2 console, the NX Wing utilizes the same rugged design and components with an identical footprint and layout. Through its USB connection, the NX Wing provides a responsive professional hardware surface to operate ONYX on any PC system without compromises. Any user of ONYX will feel instantly familiar with the NX Wing and no setup or additional installation is required. Simply plug it into a user-provided PC with ONYX and get started instantly. NX Wing provides extensive connectivity with 4 DMX Ports, MIDI and Timecode ports while unlocking 128 Universes of control when connected to ONYX on a PC.
NX DMX: The NX DMX is a USB–powered, plug-and–play, 2 –port DMX Node for ONYX. It provides instant access to DMX In and Outputs as well as RDM communication. The device is plug and play and requires no drivers or additional configuration to integrate with ONYX. It is designed to work with any PC but also works with any ONYX console as a fast and affordable way to add two additional DMX ports. NX DMX supports ONYX on PC systems for up to four Universes without any dedicated license. When connected to an ONYX licensed PC or a console the NX DMX is assignable to any one of 255 Universes. NX DMX allows for the full ONYX system to be used in many applications from small events and tradeshows to clubs and churches. Many technicians utilize ONYX through the NX DMX as an affordable but powerful tests station due to ONYX outstanding library support.
Training sessions at LDI
Obsidian will be holding 2 "Introduction to Obsidian" training sessions at the Las Vegas Convention Center at LDI. The first training will be held Friday 19 2018 from 10:00 am to noon with the second taking place on Saturday 20 October from 2:00 pm – 4:00 pm.
Training in Arkaos media server software will be offered on Friday 19 October 2018 from 1:00 pm – 4:00 pm and Saturday, October 20th from 9:00 am – 1:00 pm. Interested professionals can reserve their spot by contacting anthony@elationlighting.com