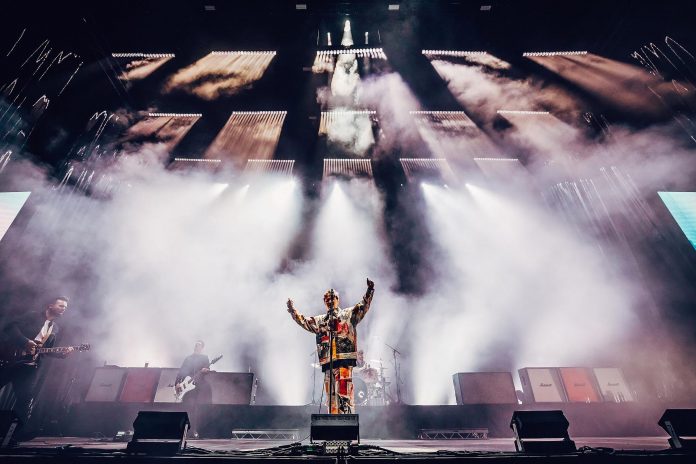 Nothing But Thieves completed a UK tour, with experienced Lighting Designer, Sam Tozer of Vision Factory, masterminding a new stage look for the Essex-based rockers.
Working alongside Lighting Director, Ryan Dennett and Production Manager, Andrew Sweeney, Tozer was brought onboard to create a new style for the band's latest touring campaign. "We wanted to create a show that matched the new art direction of the latest album," he explained. "We used elements of the set to create a clean look and add dynamics to the performance, with the lighting being revealed progressively throughout the set."
For this reason, he turned to 30 of GLP FR10 battens. "We wanted to create an industrial look onstage, and these units, which are bigger [than the X4 Bar 20 he used previously] did just that," he noted.
The FR10 Bar contains 10 sources, each with a 60W RGBW LED that colour matches with the entire GLP X4 and FR series of fixtures. Each individual source features smooth, full-range colour mixing with output from a homogenised Fresnel lens. Along with individual colour control, the FR10 Bar contains a series of built-in colour macros and a large reference of colour filters.
Tozer had first been exposed to the FR10 at the Glitterbox livestream from the Royal Albert Hall. After using GLP impression X4 Bar 20s on previous productions, he said: "I could definitely see a set role for these."
Aside from their sheer output, Tozer has other reasons for favouring the FR10. "The narrowness of the beam allows me to create pixel-shaped beams across the stage, without worrying about them being blown out," he explained.
Also in the rig are a large quantity of JDC1, GLP's hybrid strobe, which are used to surround the set and band, with Christie Lites the lighting vendors. Piloting and programming the show was the band's long-term collaborator, Dennett, who had also co-designed the opening show at Birmingham Academy.
Tozer now moves onto a succession of what he describes as other major projects. "There is some big stuff happening soon, and it will feature a lot of GLP products," he remarked.