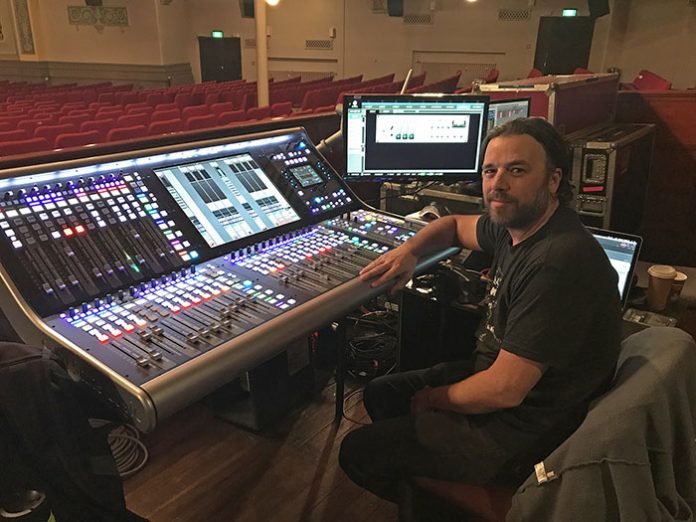 Nine-time Grammy-winning jazz songstress, Norah Jones, first shot to stardom in 2002 with the release of her debut record, Come Away With Me. It sold more than 20 million copies and shot to the top of the charts on a global scale.
Her 2004 follow up, Feels Like Home carried similar weight, selling one million in its first week in the US alone. Today, her record sales have surpassed the 50 million mark and after recently completing a tour of Australia and New Zealand, she is about to embark on the first of 24 North American shows, where FOH engineer, Jamie Landry, will be working from an SSL L500 console.
The North American tour kicked off on June 18th at Pittsburgh's Heinz Hall. Although the venues can be varied, Landry said that for the most part, Jones and her band tend to play in theatres.
"It's a nice situation where she can do a theatre in most markets at this point; she doesn't over-reach, which means she can sell over 2,000 tickets pretty much anywhere," Landry explains, adding that all of the shows have been or will be sold out. "She's really willing to try all kinds of different musical styles, and is up for collaborating with all kinds of different people – that really pays off."
Landry started out on monitors for Jones before moving to FOH – and now he also wears the production manager hat. It's a lot of work, made that bit easier by his decision to move to an SSL.
"When I made the switch to SSL [from an Avid Profile], I initially went with an L300, which I really liked the ergonomics of," he reveals. "But I decided that I wanted the extra local I/O, and so I ended up on the L500; and now I am really accustomed to the layout, and very happy with it. Also, moving from the L300 to the L500 was totally seamless."
Although there is always a learning curve of sorts when changing up any major touring kit, Landry says the SSL transition has been a smooth one.
"I am not the techiest engineer in the world, so I'm perhaps a little slower than most when it comes to adapting to new equipment, but actually, I found the SSL really intuitive to mix on right away," he said. "It also sounds amazing – that is what I love the most about it – so I enjoy working on it a lot."
Landry describes Norah Jones' live show as 'organic, and natural', therefore he is always trying the 'less is more' approach when it comes to mixing.
"I am very hands-on, and currently use no snapshots on the show, although I am thinking about it for mutes; and I am using the Stems a lot, which I find really great," he said. "But this is the first desk I've ever worked on where I am not constantly aware it's digital – I mean that from a sonic perspective. That has been the biggest difference for me; it's not fighting that digital top end when I go to the EQ. I have always found that digital EQ is great for cutting, and less great for boosting, especially around the top – but I don't have that issue with the SSL whatsoever, so it's been a drastic improvement for me since I made the switch."
Landry spent a bit of time playing with Jones' vocal chain during the Australia and New Zealand shows, and the SSL is now playing a pivotal part:
"We use a Neumann 105 on her vocal, and the last thing I settled on was using the SSL channel EQ and SSL Channel Compressor – that's working as a really fast compressor, grabbing the transients – and a second, slower compressor to smooth it out even more. I also use the onboard SSL de-esser right at the beginning of the chain, and use the tube emulation on the channel comp to get some saturation. "
Landry believes that the combination of today's modern, advanced PA systems, and the sound of the L500, allows for way more depth and control in his mixes.
"What I have really noticed is that I don't have to push the SSL EQ as hard to hear what it's doing," he declares. "With other digital consoles in the past, I've really had to dig in before I start hearing it. You almost think 'this should be too much', but it never sounds that way. With the SSL, I get more accuracy, I can get way more detail into my mix, and I always know where I am with it."
The Norah Jones North American tour runs until August 4th.