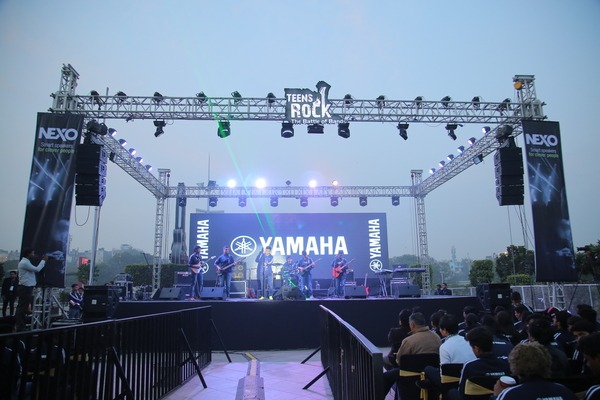 NEXO and Yamaha systems came together on stage in New Delhi for Yamaha Music India's grand finale of Teens Rock: The Battle of the Bands.
Initiated in 2014 by Yamaha Music India Pte. Ltd, the 4th Edition of Teens rock battle of Bands saw the participation of schools from Delhi, Gurugram, Jaipur, Chandigarh, Lucknow, Indore, Kochi, Bengaluru and Kolkata.
The Grand Finale of the 2017 event took place at DLF Place Saket in New Delhi, with 11 school bands. In front of an audience of 2000+, the MD of Yamaha Music India Hitoshi Mochizuki hosted some accomplished professional musicians as judges – well-known drummer Gino Banks, Subir Malik from Parikarma, and Rahul Ram from Indian Ocean.Sound systems for the event were absolutely premium, provided by Yamaha Music India, with support from the Daedal Prodigy rental company. For the main PA, a NEXO STM M28 system was deployed. The L/R arrays included 2 STM B112 bass modules, 2 STM M28-90 and 1 STM M28-120 modules, 4 STM S118 subs were ground stacked just in front of the stage.
On stage, all the monitoring was NEXO, with PS15s for most positions and a pair of 45*N-12 line monitors for the centre of the stage. The show was mixed on a Yamaha CL5 digital console, with RIO3224-D. "We are continuously trying to make Teens Rock The Battle of Bands bigger and better every year," said Mr Mochizuki in summary. "The zonal finales and the number of entries we received this year are a proof of how much popularity this competition has gathered since its first edition."