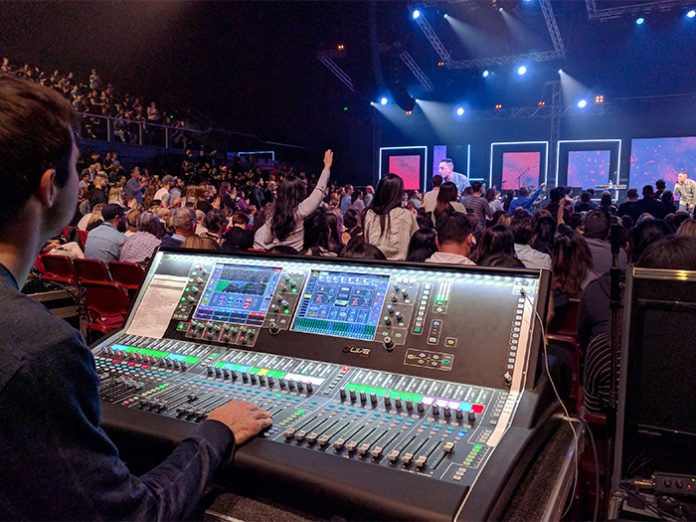 New Zealand's Lampros Sound recently invested in a dLive digital mixing system to add to its hire stock.
The new system comprises the flagship S7000 Surface and DM64 MixRack.
Based in Wellington, Lampros' warehouse contains a number of other mixers from the Allen & Heath range, including a GLD-112 digital mixer, an iLive-T112 Surface with iDR-64 MixRack, a Qu-16 compact digital mixer, and an assortment of ZED compact analogue mixers.
The new dLive system was purchased in preparation for the ARISE Conference, one of New Zealand's largest Christian gatherings, which hosts in excess of 6,000 attendees from 300 churches across New Zealand over the three-day event. Two additional dLive systems were sub-hired to supplement Lampros' stock for this event and provide a consistent user experience for the client.
The conference simultaneously took place at two of Wellington's largest indoor venues – the TSB Bank Arena and the Michael Fowler Centre – together with another two venues for the accompanying Glow Kids' Conference.
"The nature of the Conference, and its crew of volunteers, meant there was a range of skill levels, and given the limited rehearsal time, it was important to use equipment that is reliable and easy to use," explained Heath Clapperton, Lampros Sound's in-house Sound & Production Engineer, who worked alongside the ARISE team to provide support throughout the conference.
In the primary venue, the TSB Arena, dLive consoles were supplied for FOH, monitors and recording, with an S7000, DM48 with DX32 at FOH, and two S7000's with DM64 MixRacks for monitors. All consoles were fed from a passive three way split. A Dante network ran out to an iLive-T112 and iDR-48 for the online streaming broadcast mix, and to a Macbook Pro running Logic for multi-track recording.
The Michael Fowler Centre housed an iLive-T112 with an iDR-48 at FOH and another T112 with iDR-64 for monitors with a passive split. A GLD-112 with an AR2412 and two AR84 remote IO racks ran both FOH and monitors at the Glow Kids' Conference. The young adults' sessions ran a GLD-112 with AR2412 and AR84 running FOH and monitors, along with an assortment of ZED-6014FX mixers for the smaller breakout rooms.