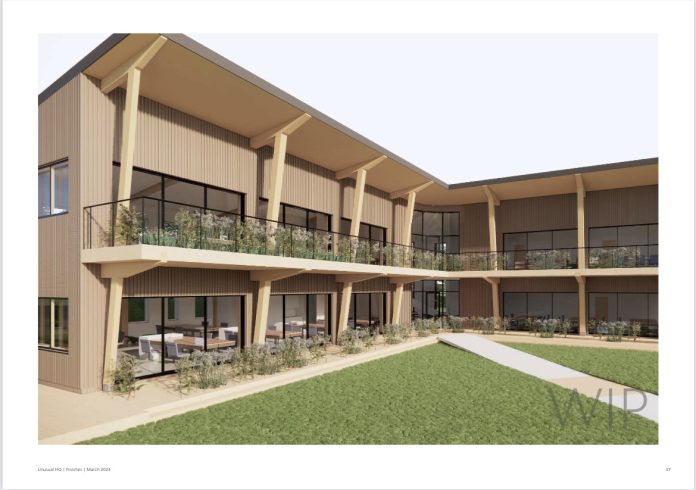 Northamptonshire business, Unusual Rigging will commence building works on a ground-breaking new headquarters in July 2023, showcasing its commitment to respond to the climate emergency.
The innovative project is set to see the company pave the way as pioneers within the local economic region – showing what can be done towards regenerative design within the built environment whilst also sharing the obstacles they face with the wider industry.
Unusual is determined to demonstrate that 'business as usual' can be business as Unusual, in pursuit of ecologically intelligent design principles.
The organisation, renowned for its work on events like the Olympics, the World Cup and West End and touring theatre hit shows, is taking a huge leap forward in their commitment to the circular economy.
The design for the new HQ and research building, on the company's current site in Bugbrooke, Northamptonshire, takes all the economic principles of the circular economy and applies them to the new building.
Tom Harper, Managing Director at Unusual Rigging explained: "It's all about designing out waste, designing for disassembly, running on renewables, sequestering carbon etc. We've been applying these principles to our work in the industry for a while now. We were selected as a finalist in the prestigious World Economic Forum 'Circulars' award scheme for our innovations towards a circular economic business model. Now we're taking it that one step further and we're excited to be leading the way. We are very much ahead of any legislation in our aspirations to achieve this."
In the new building, Unusual, along with architects Corstorphine & Wright, are:
Choosing carbon sequestering materials over carbon intensive ones (accoya wood over standard cladding. Glulam timber over steel).
Delivering on an internal design, based on principles of reuse –opting for biodegradable materials over carbon intensive (breathaboard over plasterboard).
Addressing heating and lighting requirements with passivhaus capacity in mind
constructing the building to be easily disassembled at end of life, meaning all the materials could be reused again.
Planning to regenerate the landscape, adding ponds and specific landscaping for a bent towards rewilding
Ensuring that the building will be run on 100% onsite renewable energy (solar)
Adding a further twelve electric vehicle charging points
Jonathan Plant, director at Corstorphine & Wright said: "It is rare and refreshing to have a client like Unusual. In his role to drive forward the development of their new headquarters, Tom has had the confidence and tenacity to follow his aspirations for a building rooted in the principles of the circular economy, and the team at Corstorphine & Wright is excited to help deliver this vision.
We believe that by applying the principles of the circular economy to Unusual's new HQ, we can not only go beyond just reducing the carbon footprint of the building, but create a pioneering working environment that is enjoyable, productive, convenient, and 'valuable' on numerous levels. Our shared ambition is that this building will become an exemplar, demonstrating that the circular economy approach can drive a shift towards more sustainable forms of growth, procurement, and value creation for our clients. We are excited that the project takes this important step forward today."