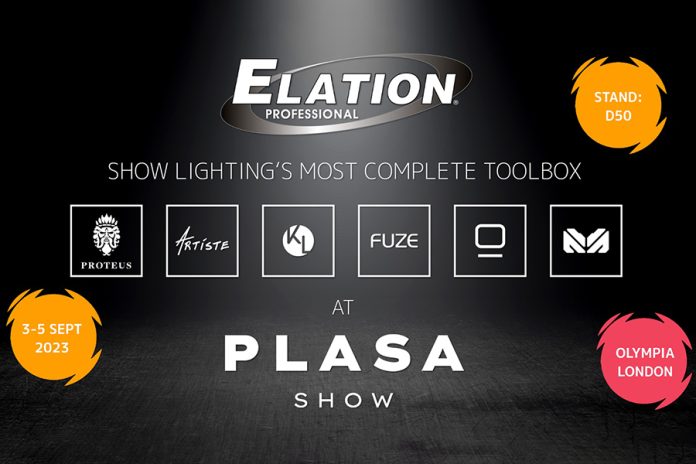 Elation Professional presents a line-up of new lighting tools on 3-5 September at the PLASA tradeshow at Olympia in West London. Visitors to Elation Stand D50 will be some of the first in the UK to see the luminaires in the company's Proteus, Fuze and KL lines, along with other lighting solutions.
Highlights in the market-leading Proteus IP65 series include the new Proteus Radius, a high-intensity Beam FX fixture with Solid State phosphor-converted light engine, and Proteus Odeon, a framing profile fixture with a CRI LED engine. Visitors will also be some of the first to see the Proteus Hybrid MAX, an IP65 hybrid fixture.
Also on display will be the new Fuze Teatro, an automated yet fanless framing fixture for completely silent operation. New luminaires on show in the KL "Key Light" series include the KL CYC cyclorama/set/wall wash along with the all-in-one KL Profile FC and KL Spot IP ellipsoidals. The Proteus Radius, a Beam FX fixture with IP65 rating alongside Proteus Odeon the industry's first completely variable CRI LED engine, the Proteus Hybrid MAX a compact IP65 hybrid fixture that combines high output and extended lamp life and the Fuze Teatro designed for any application where a silent framing fixture is required.
To complete Elation Professional's display is the KL CYC a LED lighting solution for set and wall washing applications, the KL Profile FC, a manual ellipsoidal framing fixture with 305W RGBMA LED engine and the IP65-rated KL Spot IP is a fully automated static ellipsoidal fixture with zoom and the ideal complement to the KL Profile FC.
Elation Professional will be on hand to provide demonstrations and insights into the fixtures at stand D50, partnering with Entedi Ltd at stand C18 and C16.