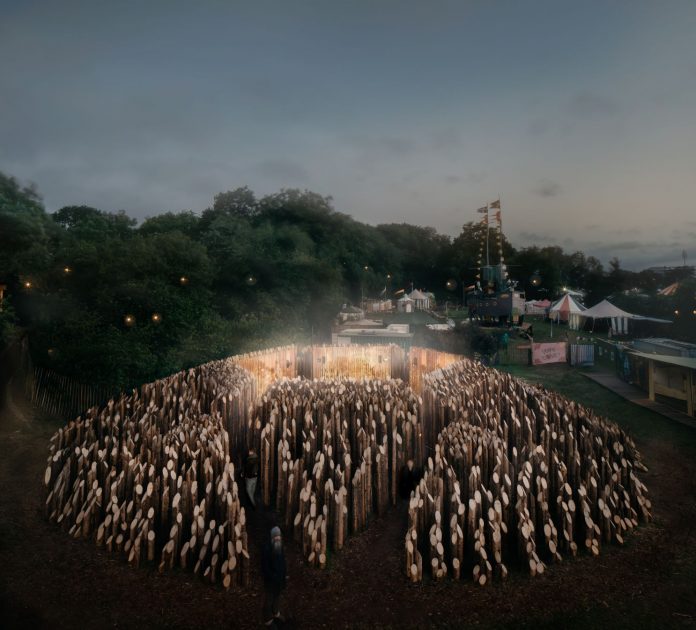 Partnering with specialist collaborators in science, light, film, sound and projection mapping, NEC Display Solutions provides laser projection technology in the creation of BEAM, an immersive and multi-sensory experience at Glastonbury Festival.
The Greenpeace field at the Glastonbury Festival hosts innovative ways to raise awareness for environmental issues. This year, Nottingham artist Wolfgang Buttress, famed for his Hive sculpture in the Royal Botanic Gardens in Kew, will highlight the plight of the honey bee with a multi-sensory, immersive sculptural experience.
"I am delighted with the NEC laser projectors that are being used in BEAM. They have been essential in creating a multi-sensory experience which highlights the existential challenges facing the honey bee," explains Buttress. "I wanted to use the best technology available to create a sense of magic and wonder. The projectors have helped make this happen."
Visitors enter the 30m diameter woodland pavilion through numerous pathways lined by tree trunks and wildflowers leading to an 11m wide hexagonal clearing. The internal space is surrounded by 3.5m high wooden lenticular screens to create a fully immersive experience. Vibration sensors are used to measure the activity of the black bee colonies living on Michael Eavis' Worthy Farm at Glastonbury. These live signals will be sent to the sculptural installation, called BEAM, and expressed through light and sound.
At night, the space is filled with 360-degree projections from 12 x NEC PX1004UL laser projectors animating the walls of the clearing with footage from bee hives with high definition film, MRI and thermal imagery.
"Our laser projectors provide the robust performance needed for powerful delivery of this breathtaking showpiece," said Graham Kirkpatrick, technical solutions architect, NEC Display Solutions. "We are delighted to be working closely with consultants Hoare Lea on another fantastic Wolfgang Buttress project following our involvement in his award-winning Hive sculpture at Kew Gardens in 2016."
The largest and most famous greenfield music and performing arts festival in the world, Glastonbury takes place from 26-30 June. BEAM will be widely covered on radio and TV throughout the festival period.