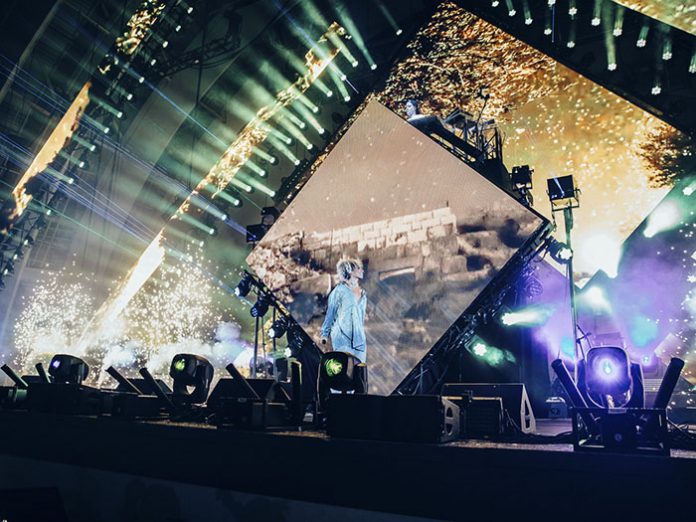 Alex Hesse deployed nearly 200 of GLP's compact X4 S LED moving heads at the iconic Hollywood Bowl, when Norwegian house DJ / producer Kygo headlined at the 17,500 capacity venue recently – selling out over two nights..
Locally-based production company eighteentwentysix provided inventory as Hesse, who has been working with the artist for the past 18 months, renewed his acquaintance with GLP's award-winning platform.
Specifying the tiny X4 S fixtures for the first time, he said, "I was looking for a bright small and fast wash light that had a tight beam and a wide zoom. With seven 15W high power LEDS and 7°-50° zoom ratio, the X4 S certainly provided that.
"I had 188 GLP fixtures to work with so the trick was to outline the trusses with LED panels on them. Having so many fixtures I could use them both for stage lights or crowd highlighting. I had a lot of options and the dynamic feel worked very well."
The fixtures were dispersed across eight flown trusses, two floor mounted trusses and a centre diamond truss – all equipped with X4 S and LED panels. The fixture positions for both audience and stage were geared to deliver smooth aerial effect movements and colour bumps – with the show directed and programmed by Hesse himself.
A number of different elements were called into play to work in conjunction with the lights, including lasers, LED wristbands, Pyro and special effects. Rehearsals had taken place two days ahead at one of Sony Entertainment's studios, where the entire show had been coordinated from start to finish.
Summing up the experience, the LD said how much he enjoyed working with the set up and the team that made it happen. In particular, he expressed his delight with the response of the X4 S. "They worked perfectly during the show. It´s a very small but fast fixture with a lot of power for its size.
"By hanging these fixtures really tight next to each other it was possible for me to build great looks and movements – and having so many fixtures with such a wide zoom range gave me options to create both wash and beam effects.
"Altogether the X4 S is a very impressive fixture and I see a bright future for it."