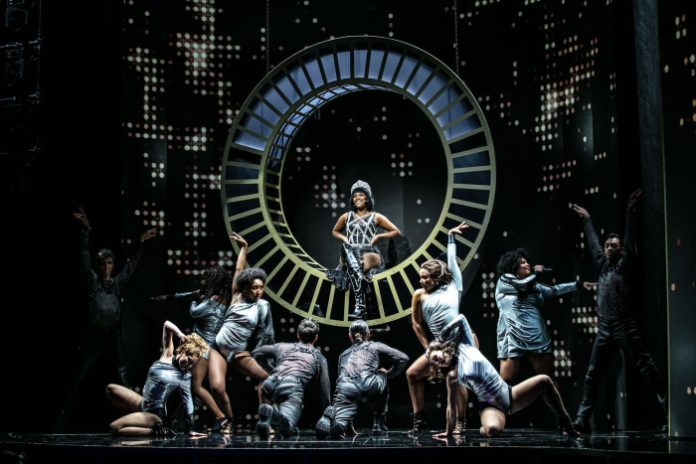 Danish-based Motor Stage Automation (MSA) provided automation equipment – specifically, Kinesys Elevation 1+ drives, Apex hoists and control, as well as Alfa System revolves – and its expertise for three set elements on the recent run of The Bodyguard The Musical produced by Lion Entertainment and staged at the China Teatern in Stockholm. 
MSA, a fresh and innovative new company specialising in the design and realisation of stage and show automation systems, has worked in this capacity on several other Lion Entertainment Productions, including for the Danish touring version of this show, which was on the road in 2020 and 2021 after pandemic induced interruptions.
The set, designed by Benjamin La Cour, features three LED screens at the centre of the action, combining seamlessly with various scenic pieces to make up a larger picture. La Cour and Lion Entertainment Owner and Creative Director, Thomas Langkjær made the decisions about which parts should be automated to fit the storyline and rhythm of the piece and asked MSA's Christian Vigsø onboard. As Lead Automation Engineer, he specified the kit required and co-ordinated the installation at the 1,230-capacity venue.
The central LED screen was 5.5m by 5m and weighed approximately four tonnes, including its support structure, and this was flanked by two side screens approximately 3m-wide by 4.5 m-high and each weighing three tonnes, including their support structures. All the screens were convex on one side and concave on the reverse. 
These were placed on revolves, the first of which was 7.5m in diameter for the centre screen and two at 3.3m diameter for the side LEDs. The revolves were built by Alfa Systems, and MSA powered them using three Kinesys Elevation 1+ drive units running with a mini PD-ES connected to the network plus a Mentor 401 safety controller that utilises SIL 3 safety over Ethernet. "This is a straightforward, safe and reliable system that we knew would be stable," remarked Vigsø.
The second moving element was when lead character, Rachel Marron, played by Nadja Kasanesh Holm, entered one scene rock 'n' roll style, sitting on a circular set piece that was lowered 20m from the roof. The set piece was constructed from HOF 290-2 trussing from MSA's stock. This trussing circle was picked up on two Kinesys Apex 500kg hoists.
The third set piece being lifted was a large kitchen 'flat' which was used multiple times throughout the performance, but never seen coming in and out. This was also lifted using two 500kg Apex hoists, which guided it in and out during blackouts. All four Apex hoists and the three Elevation 1+ drives turning the revolves were run via a Kinesys Vector controller.
Vigsø notes that during the entire six-month show run, which wrapped up in March 2023, the team encountered no issues with the system, which was operated day-to-day by Head of Automation at China Teatern, Ted Silvergren and his team. This production is next scheduled to play in Norway.
"This was my first project engineering the system as well as building it, a task that happened together with the great crew at China Teatern. I was very impressed with their professionalism and how they worked on many details to ensure this production fitted so well into their nice venue," Vigsø commented. "The Kinesys system proved super-stable. It was run on a daily basis and we did not have even one single system error in six months, which just underlines why we have invested in Kinesys."