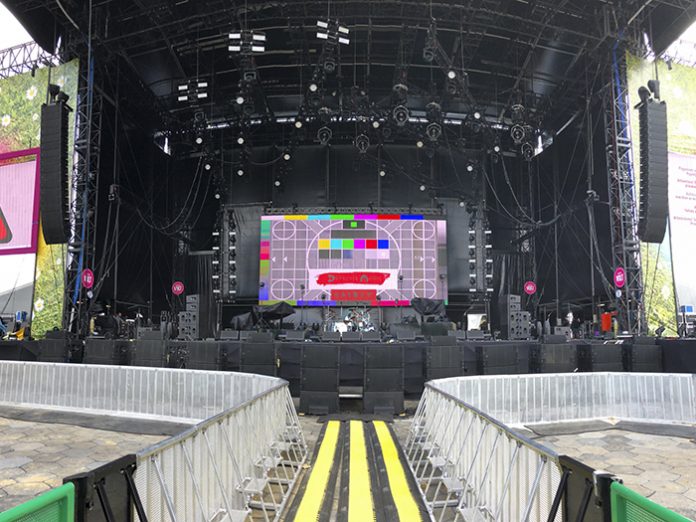 Capital Sound met the challenge of fielding Martin Audio's premier MLA for 2 of Hungary's signature festivals, while simultaneously being able to deploy 318 Martin Audio MLA series enclosures in Hyde Park for Roger Waters' opening night of the Barclaycard Presents British Summer Time Festival.
The multi-genre Volt Festival takes place in Sopron, near the Austrian-Hungary border. The festival is organised by the same organisation as the larger Sziget which takes place August 8-15 in Budapest. In between is another Sziget sibling and EDM festivalBalaton Sound, which took place on the picturesque Lake Balaton.
All have been serviced for a number of years by Capital Sound, and all continue to feature Martin Audio's premium loudspeaker systems on main stages. With such heavy demand on inventory Capital needed to plunder the Martin Audio European MLA network, and get cross-hire support from Hungarian company BG Event Kft and Polish rental company, Muśnicki Sound Systems, with whom they frequently work at this trio of top-line events.
Volt Festival attracts over 100,000 music-lovers over its five days, although Capital Operations and Development Director, Paul Timmins, said there were changes afoot this year in the PA stack. "With the growing trend towards greater stage visuals, the wider stage meant we needed an extra 12 MLA Compact for front fills." These were supplied by BG Event.
Capital had Jonny Buck on duty as crew chief and Finlay Watt as FOH tech, with support once again from Hungarian Audio crew chief, Marci Mezei.
At Volt Festival, the remainder of the main PA consisted of a Martin Audio MLA PA (18 per side, including an MLD Downfill), with 36 Martin Audio MLX subwoofers in a 12 3 stacks spaced cardioid array. Outhangs consisted of 8 Martin AudioMLA (stage left) and 5 Martin Audio MLA (stage right). Delays comprised two masts, each with 6 Martin Audio W8LC line arrays, with a further 1 Martin Audio W8LC as front fills.
As for Balaton Sound, the PA design consisted of 15 Martin Audio MLA (and a single MLD) per side, with 36 Martin Audio MLX subwoofers in the same spaced cardioid array, 8 Martin Audio MLA per side as outfills and 6 Martin Audio W8LC line array elements per side. Front fills were again composed of 12 Martin Audio W8LC cabinets.
Paul Timmins concluded: "The new set-up worked well and the big sub array we introduced last year again proved that this design really works. The feat of being able to source so many MLA boxes for simultaneous events across Europe provided quite a challenge."