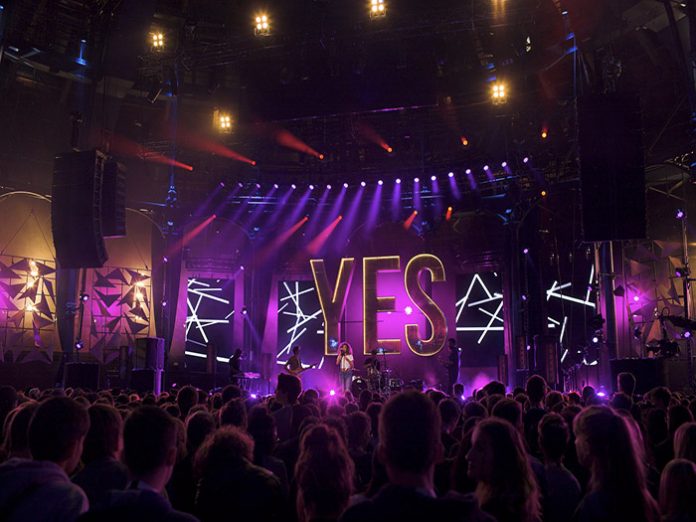 Over 120 Robe light fixtures were recently used to illuminate the London Roundhouse for YesLive 2016. The awards show played host to a number of artists in an effort to inspire kids aged 15 – 17 in coalition with the National Citizen Service (NCS) initiative.
Creative visual design specialists, MIRRAD, were issued with the task of producing a high-energy show through visual production as the likes of Craig David, Jess Glynne and Tinie Tempah performed onstage.
Show Designer, Bryan Leitch, and Lighting Director, Jamie Thompson, were given responsibility to organise the production and started with a series of three by two metre curved screens, which resembled the venue's famous architecture. Stage changeovers were shielded by a video screen and came in and out on a Kinesys system.
The Robe count included 24 BMFL Spots, 20 Pointes, 20 LEDWash 300's, 54 LEDWash 600's and 8 LEDWash 1200's. The production lighting was also tied in with a house lighting rig containing a backbone of Robe fixtures.
The BMFLs were positioned in trusses over the stage and also on the deck behind the video screens generating silhouettes of the artists on stage. MIRRAD were particularly impressed: "I think [the BMFL Spots] are a great contender for the next 'industry workhorse'," stated Thompson.
A total of 14 Pointes were positioned in an arc from the stage around the back of the room and used for spectacular audience reverse and back-of-camera shot fillers.
LEDWash 300's are small so they could be concealed all around the venue and were rigged in between the Pointes around the back of the hall for additional soft-edged beam effects.
The six LEDWash 1200's were used for side lighting onstage as Thompson and Leitch wanted a punchy wash to blast across the stage to light the spectacular copper tinted 'Y-E-S' letters mid-stage. The 600's were dotted all around the stage and on the floor for wide beamy effects.
All of Robe's fixtures were commended by MIRRAD and the show was considered a great success: "It was a really enjoyable event to light", Thompson concluded.