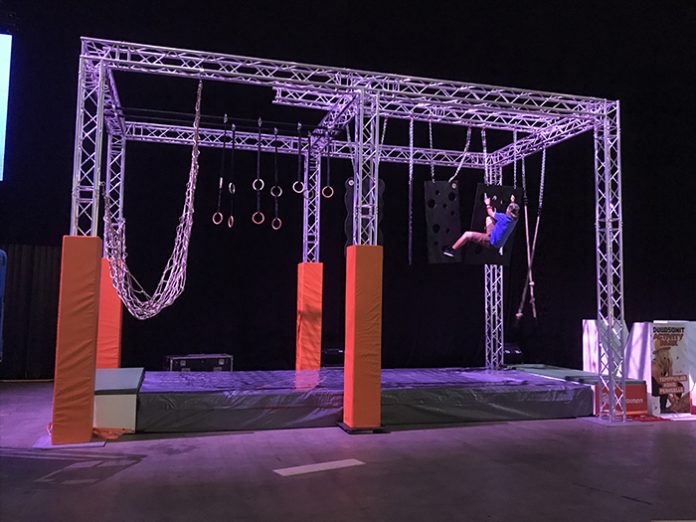 Milos recently provided a rectangular structure for a Ninja Adventure course in Helsinki, Finland for the Tubecon Fair, which is Europe's largest YouTube cultural event. For this event, Finland's leading YouTubers and thousands of their fans are brought together for two days of fun and excitement.
The client for this project was Arctic Playground Solutions, which designs and installs trampoline parks, ninja adventure structures, toddler playgrounds, and other creative activities for its continuously expanding customer base across Europe.
The rectangular structure from Milos measured 6m x 3.5m x 3.5m (length, width, height) and was designed as a "ninja track" for mountain climbers.  Milos M290Hd truss was used for its construction, as its 48mm x 3mm main chords were able to withstand the high dynamic forces from the climbers, while its compactness still provided plenty of room for them to move around the structure. 
The total course (including the Milos structure) was 25 metres long, had 6 different sections and featured a timing section and bagjump safety pad.
"The Ninja Adventure track was a huge success at the fair and all participants were really happy with its design, construction and stability. MILOS provided extended support for this project and were able to meet our extremely tight deadlines," said Arctic Playground Solutions CEO and Designer Jaakko Tossavainen.