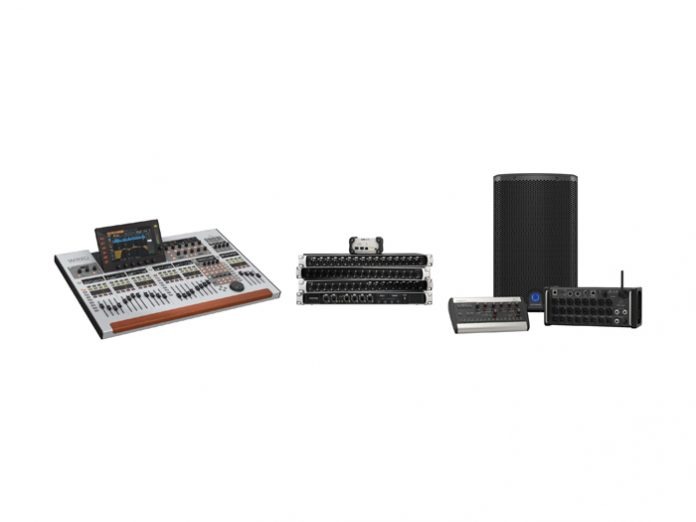 Midas has released its brand new series of StageConnect I/O Interfaces.
StageConnect is the latest eco-system of bus-powered interfaces that transforms messy cable clutter into tidy, simple setups on stage and in the studio. Currently supported by Midas, Klark Teknik and Behringer, the right StageConnect interface allows you to break out analogue signals, convert them to USB and even Ultranet.
With 24-Bit, 48 kHz uncompressed audio, crazy low latency fixed at 0.05ms and 32 channels in any direction, StageConnect is all about that I/O and anything in between. When a longer transmission range is needed, a standard DMX cable will provide up to 40m.
With myriad options, StageConnect gives the user the freedom, flexibility and ease-of-use they need and expands the possibilities of any live or studio-based set-up.
Add Midas' DN4888 to a siderack, connect its slave port to a Behringer WING and instantly get eight balanced line level sends and returns for wireless monitoring and microphones over a single XLR cable.
Want to turn the band's MR18 mixer into a stagebox? Connect its Ultranet output to Klark Teknik's DN4816U and use StageConnect to connect to WING and get an instant 16-channel digital stagebox.
Connect a Midas HUB4 into a DN4816-O's master port to allow separate PCs for live playback. Record by connecting a DN4816U to the WING then to the PCs USB port.
The StageConnect Calculator streamlines checking and planning setups. Configure individual devices, change their order and add or remove devices with ease. Users can also create a virtual StageConnect chain while being able to view parameters, maximum DMX cable lengths, power budget and overall connection stability.
Current compatible StageConnect devices include: Midas DN4816-I, Midas DN4816-O, Midas DN4888, Midas HUB4, Behringer WING and Klark Teknik DN4816U.
StageConnect is available for Download (Win/Mac/Linux), from any of the above product pages.