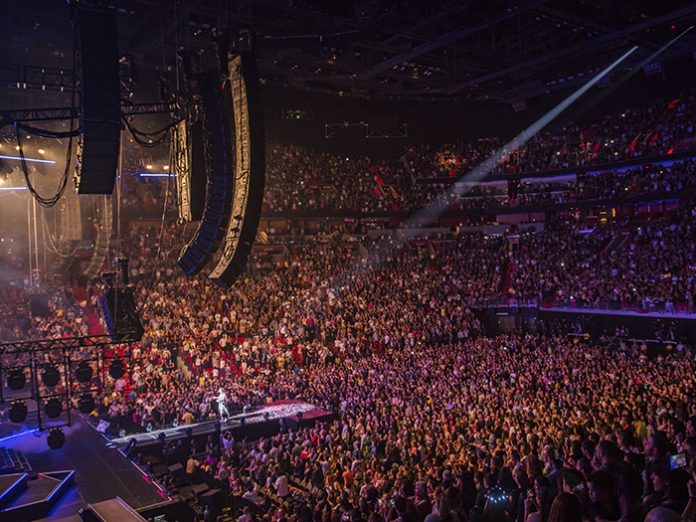 Colombian singer Maluma's 2018 F.A.M.E. Tour's audio production was anchored by potent Meyer Sound LEO Family reinforcement systems supplied by VER Tour Sound in North America and Fluge Audiovisual of Madrid for the European swing.
Tour FOH Engineer Lucas Pinzón, a veteran mixer in the genre (Carlos Vives and Bomba Estéreo among others), selected a Meyer Sound LEO Family solution to ensure he could rely on consistent results despite demanding tour logistics and daunting production hurdles.
"I've mixed with the other systems, but I've found that the LEO Family really works perfectly for what I need to translate a Latin act into the American and European experience," said Pinzón. "The way I can put the vocals through, and the way I can work with the instruments are ideal for what we're doing on this tour. This system has helped me night after night by giving me all the power I need, and allowing me to create an electronic/acoustic mix behind Maluma that is just the right balance of musical 'colors'."
For a typical arena configuration, the touring rig's main arrays are usually left and right hangs each with 14 Meyer sound LEO line array loudspeakers over 4 Meyer Sound LYON-Wwide-coveragee line array loudspeakers. 6 1100-LFC low-frequency control elements are flown per side, with ten more per side on the ground. The 2 outfill arrays each comprise 8 Meyer Sound LYON-M over 8 LYON-W line array loudspeakers, and front fills are 12 Meyer Sound LEOPARD loudspeakers deployed as single cabinets along the stage lip. 8 Meyer Sound Galileo Callisto 616 processors supply system optimization and drive.
The artist foldback system included 8 Meyer Sound LYON-W loudspeakers and 8 Meyer Sound MJF-210 stage monitors.
During one segment of the show, Maluma mounts a long mechanical boom that sweeps outward in a 20-meter arc over the audience. ''Maluma loves doing this because it brings him closer to his audience," said Pinzón, ''but having him singing out in front of the PA was a big challenge with no easy solution. I knew this would happen three or four months before the tour, and it's one reason I chose to go with Meyer. I knew I would have the backup I needed to find a solution in the tuning and the processors. Yes, before the tour it was a worry, but now I'm super happy with the results."
Uniform coverage was another factor tilting Pinzón toward a Meyer Sound LEO Family system. ''During tuning I spend time walking the arena to make sure we have perfect coverage. I want to make sure everybody experiences what they are paying for, not just those in the front rows. The way LEO covers at a distance is amazing. I have no need for delays even in the bigger arenas."
From his standpoint as production manager, Teo Echeverria cited the importance of system versatility and manufacturer support: ''With Meyer Sound we can always pick up the phone and get reliable guidance on the path we should choose. They send real people to help with real support. It's not just a virtual thing. In that aspect, Meyer Sound doesn't have competition."
Regarding the tour's Meyer Sound LEO Family rig, Echeverria noted that ''it's a versatile system that allows you to work in any kind of venue, in any kind of format, from smaller venues up through arenas, big stadiums and festivals. It makes logistical operations so easy."
For near-field reference, Pinzón relies on the pair of Amie precision studio monitors hovering behind his DiGiCo SD12 digital mixing console. ''It's unbelievable the power of that little box. I can bring my PA, which is 45 meters away, right up in front of my face," he said. On the European leg of the tour, monitor engineer German Tarazona also uses Amie monitors for mix reference.