PRG XL Video continues close relationship with the Golden Gods – a festival style rock 'n' roll awards show, as Kelly Murray reports.
I always say there's two ways you can deal with jet lag; either surrender to sleep and by day become a barley functioning, bloodshot-eyed creature of the night or (the preferable choice) stay awake by wearing copious amounts of eye make up and enjoy some rib rattlingly loud music. If you know me at all, you'll know I'm firmly in camp B. Just three hours after landing from a US trip, I found myself London-bound and en route to the Eventim Apollo in Hammersmith for the Metal Hammer Golden Gods Awards 2016. Told you there'd be eyeliner.
The suggestion came courtesy of our good friends at PRG XL Video. "You should experience this, it's right up your street," a voice on the phone said as I carefully removed the lavender off my pillow at 11.30am. The voice was correct. Although somewhat underdressed for a pale face painted dog collar exhibition, I felt more like myself drinking Fireball whiskey than I did a midday Horlicks.
Just as well really, as this is no ordinary awards show; there were no black tie suits, no seated dinner service and the only red carpet moments captured were those that displayed devil horns for the alt music press. The awards were hosted by Hatebreed frontman Jamey Jasta, who led the night's proceedings to an almighty reception. The awards audience consisted of Metal Hammer readers and fans of the performing bands which included metal innovators Gojira, Swedish viking horror force Amon Armath, a Salute To Lemmy – featuring Saxon and Motörhead's Phil Campbell and Mikkey Dee, and the female fronted melodic ballad powerhouse that is Halestorm. The band's singer Lzzy Hale even won this year's Dimebag Darrell 'Shredder' trophy for her ability to tame a six string – while wearing stage crunching heels we might add – with a knowing expertise akin to an ancient snake charmer.
With the highly anticipated line up in place, it was down to technical sponsor PRG XL Video to provide the event with lighting, video and rigging equipment in order to ensure the audience saw a well-produced show and the bands could each transform the stage into their personal headline gig. The task of production design was placed with Lighting Designer Stephen Abbiss, a creative LD who began his career in theatre and soon found his way into the heady world of rock 'n' roll touring.
This was his first time operating the Golden Gods Awards, as he explained to TPi: "I got a call from Yvonne Donnely Smith at PRG XL Video asking for a designer / operator for the show. They wanted someone to bring together the entire look of the night. Of course I said yes, but all I really knew at that point was that Rachel King was our production manager and that it was going to be a rock 'n' roll style event with nemerous live acts." In order to adhere to the dual awards / concert environment, Abbiss allowed the two briefs to meet by ensuring the lighting design would primarily focus on the music. He continued: "The rock element was integral, but I also added to the lighting rig to make sure there were some filler scenes for the cameras and some extra effects over the audience for the reverse shots."
The core tribute to late Motörhead frontman Lemmy also had a big impact on the look of the show. Continued Abbiss: "I had a base rider from each band that was performing, but I used the front cover of Motörhead's No Sleep Untill Hammersmith vinyl cover as a blend for each of the plots. For the finale, I gave the show a bit of a heavier nod towards the traditional Saxon and Motörhead aesthetics. It's a bit like doing a festival main stage design in that you have to come up with an all encompassing drawing that allows each act to feel that it's their headline show. Some scenic extras that were added on the day came in the form of dragons and tombstones for Amon Amarth, and the truly glorious Saxon eagle, all of which were very fun to play with!"
To facilitate the design, PRG XL Video supplied 10 SGM P-5 LED wash lights, six Clay Paky Stormy LED strobes, 20 PRG Best Boy HP Spots, 30 Philips Vari-Lite VL5 washes, 10 ACLs, 14 4-lite generic molefays, 10 Chauvet Professional Strike 4 LED blinders, 22 GLP X4 impressions and seven Philips Vari-Lite VL1000's. Abbiss said of his specifications: "I used a lot of PARcans during my work with rock bands in the '80s and I wanted to recreate that retro look for this show yet still have the ability to manipulate the colour palettes. The Philips Vari-Lite VL5's won the day for me – although it has more of a '90s feel – as they delivered the right atmosphere.
"The inevitable ACL fans were thrown in to for that classic look and the PRG Best Boy HP gave me really good spot coverage. The Philips Vari-Lite VL1000's were placed as key front lighting and the SGM P-5's were used for floor backlighting where space was at a premium. Those fixtures provided a nice, wide angled glow." To complete the '80s homage, the onstage towers were dressed with the Chauvet Professional Strike 4 LED blinders.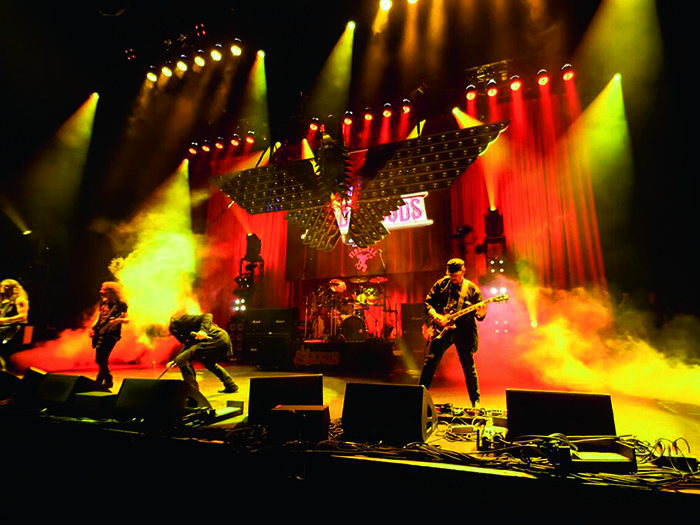 For operation, an Avolites Sapphire Touch console was the desk of choice. Abbiss told TPi: "I've dabbled with many consoles in the past, but my earliest moving light shows were done on an Avolites Rolacue Sapphire. I remember it being number 001 and, ironically, the main console I had for this event was an Avolites Sapphire Touch – number 001! It's a desk I'm comfortable with and that I know very well, so for me it's the obvious choice for a show with a lot of quick changeovers.
"For the bands that came with their own operator, I programmed a page design for each LD so that they could get to grips with the show quickly. Considering we were under some pretty tight time constraints, I think all of the visiting LDs were happy with the end results."
Commenting on the assistance PRG XL Video provided, Abbiss stated: "They were great; I got lots of fixtures to play with and they worked effortlessly. The crew they provided were second to none too, and after a long, overnight changeover I cannot thank techs Dana Reid and Carl Boswell enough for their efforts."
TPi
Photos: PRG XL Video / Matt Rakowski