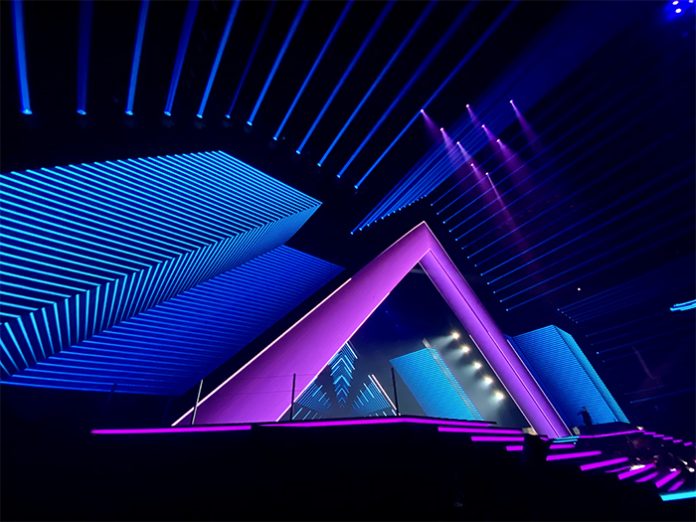 Denmark's annual music competition to find its Eurovision entry reached its big finale in March at Copenhagen's 16,000-capacity Royal Arena. Known as the Dansk Melodi Grand Prix, hopefuls battled it out against a striking stage design made up of 450sq.m of LED screen, shaped into ever-expanding triangular shapes. These were fed perfectly mapped visuals by a chorus of Green Hippo Hippotizer Karst+ Media Servers.
Hot shot Hippotizer aficionado 4K Projects, which is based in Copenhagen, was commissioned by Danish national broadcaster Danmarks Radio to project manage the video and lighting aspects of the show. The company's Mikkel Samuelsen and Balder Thorrud have been involved with Dansk Melodi Grand Prix for a decade, and are well-versed in creating memorable visual feasts.
The 2020 heats were held without an audience, due to the COVID-19 pandemic. Despite this, TV viewers at home were treated to a full production, which went ahead to celebrate the 50th anniversary of the Dansk Melodi Grand Prix. All performances were backed by The Antonelli Orchestra, heightening the vibe and spectacle.
"We used four Hippotizer Karst+ Media Servers with a wall controller for the show – using two as main and two for full backup," explained Thorrud, who served as Hippotizer operator for the show. "All outputs were connected to DVI matrix for easy switching between main and backup system. We love using Hippotizer, especially because the VideoMapper, easy content sync and simple way to connect to a grandMA for control, makes our lives much easier and the visuals more effective."
Visual control was handled by Michael Havdrup in collaboration with Thorrud. The 4K Projects team worked with Danmarks Radio to source the Hippotizer and screens from Danish stage lighting supplier, Litecom Group. The staging, lighting and video was designed by Kasper Lange, with visual content by Katja Forup. "There was a lot of LED screen on this production," Thorrud continued, "and one of our biggest challenges was hanging them as scene pieces, in the right position!"
The Eurovision Song Contest was, of course, cancelled in light of the pandemic. However, Danish Duo Ben & Tan won the Dansk Melodi Grand Prix 2020 with their song, Yes, which has now been released as a single in their home country.