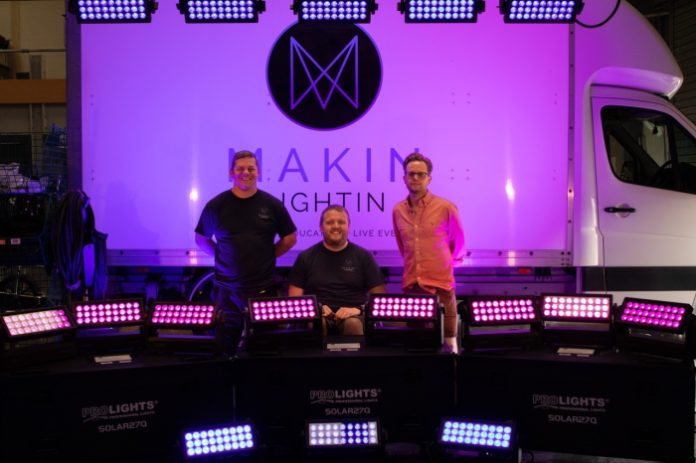 Following the COVID-19 pandemic, the number of outdoor events has increased dramatically, meaning the demand for IP65 rated fixtures has too. To this end, Makin Lightin has invested in PROLIGHTS' Solar 27Q wash lights to meet its customer's needs and growing desire to continue developing creative options.
Jonathan Makin, owner of Makin Lightin, commented on the investment: "When it came to selecting an outdoor wash light, there are a large number of options on the market, but it was never a question for us, PROLIGHTS was the obvious choice. We have been using their products for a number of years now and are familiar and confident in their brand and product performance… they've never let us down!"
Makin Lightin are a long-standing customer of specialist equipment provider and PROLIGHTS' exclusive UK Distributor, A.C. Entertainment Technologies Ltd. (AC-ET), and purchased their new Solars and all previous PROLIGHTS fixtures from them.
Makin added: "The Solar27Q is a really impressive fixture for its size. It's plenty bright enough for the events we will use it for and its size means it will fit into any venue. Some similar fixtures of this size lose the ability to pixel map, so having the option for this means we can use them as eye candy effects on rock and roll gigs. The optional filters for them again make them super versatile, I can see them being used on a wide variety of events and can't wait to get them out on various projects soon!"
The Solars are already booked to go out on some exciting events, including the upcoming Gunpowder Ball, London – a black tie event which raises vital funds and crucial awareness for the Spinal Injuries Association. The Solars will be used for ambient lighting in the room as well as providing exterior illumination of the building.
"I have been working with AC-ET for many years. The service has always been great and I have always found the staff to be friendly and very helpful. Ben, who is my main contact at AC-ET, is great. We have a fantastic working relationship and because he's looked after us for so long he knows the business and client base really well which helps when we're looking at new products for the hire stock. Nothing seems to be too much trouble for him and he is always prompt with replying to my inquiries. I have been kept up-to-date with the Solar order throughout the whole process. It is always a pleasure working with Ben," concluded Makin.