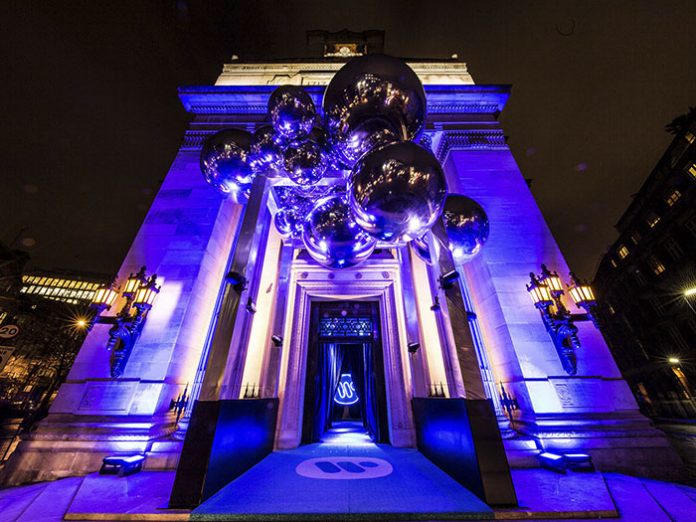 Working for Event Designer Jason Morais, the event production specialists Maestra London returned to the Freemasons Hall in Covent Garden for the 2017 Warner Music Brit Awards after-show party.
Maestra delivered the full technical and creative production including supplying all the technical and scenic infrastructure – set, lighting, rigging, audio, all décor – including a myriad of bespoke designed items, carpeting, furniture, drapage and soft-goods.
The team was led by Production Designer Jenny Woollard, Senior Project Manager Aisha Tarayan and Technical Managers Adam Jones and Edwin Higgins co-ordinated all elements right down to the colours, textures and styles permeating the rooms.
This year the entrance was graced with a spectacular sculpture made from 30 silver helium filled spheres between 1m – 2m in diameter. The spheres were attached to a custom truss ground support structure wrapped in silver lamé and lit with 8 x Robe LEDWash 600 moving lights ensconced in the truss and hidden from view.
In the bar, a combination of Robe LEDBeam 100's and LEDWash 600's were installed down the sides of the room on ground supported truss, and Robe Pointes fitted with custom Ciroc gobos beamed onto the bar area. Around 150 CORE ColourPoint up-lighters were used around the building, skimming up walls, panels and drapes.
Lighting was rigged on a discreet ground supported box truss that started from behind the stage and came out over the seating area in the club area, rigged with Robe LEDBeam 100's, LEDWash 600's and Martin Atomic 3000 strobes, together with 6w RGB lasers and single colour blue beam lasers, all operated via a Chamsys MagicQ MQ100 console.
Maestra had fake loudspeakers manufactured which were ensconced in the seating bays in the VIP area, complete with a weathered brown-gold finish and a little brass metal Warner lozenge in the corner.
Locals from Connections Crew assisted Maestra on site.