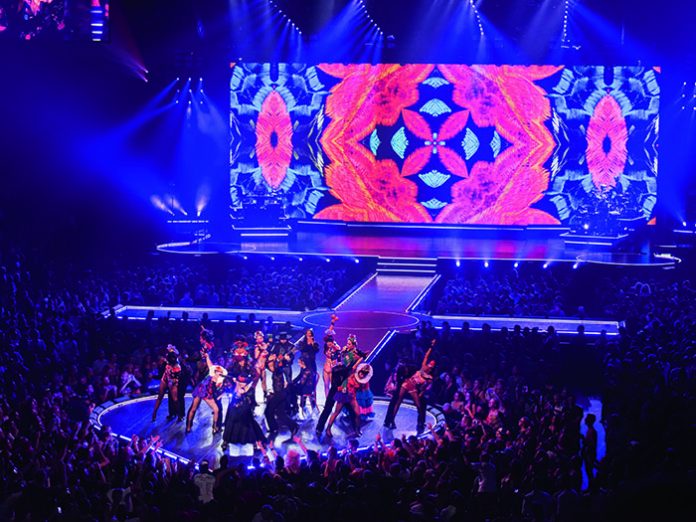 After a successful first leg in North America, Madonna brought her Rebel Heart tour to Europe with the goal of maintaining consistency across the board. TPi headed down to one of the pop icon's London dates to meet the crew and discover the intricacies involved in such a mammoth production.
With today's highest-charting artists locked in seemingly perpetual battle to concoct the most elaborate and breathtaking stage shows imaginable, gig-goers can be forgiven for setting the bar particularly high when it comes to production values. One artist that continues to push the envelope, driven by her famously exacting standards, is Madonna. After all, nobody becomes the 'Queen of Pop' by working in half measures.
The Rebel Heart tour saw Production Manager Jason Danter working with Madonna for the first time, taking over from road veteran Jake Berry. He explained: "We met in September 2014 when they invited me to do the tour. We kicked off in January with the Rebel Heart promo, which went to the Grammys first and then to the Brit Awards. However, it was really mid-February by the time we started working on rehearsals and sales for the tour."
In something of a break from the norm, Danter was personally interviewed by Madonna for the job: "This is the first time I've been interviewed by the artist. I've had telephone conversations and I met Beyonce once when I did some work for her, but most of my work comes via word of mouth and is agreed with management."
Conveniently, Danter was on a short break from another tour at the time. He continued: "Madonna's management invited me to New York for the interview. There were three of us in the room; myself, Sara from her management office, and Madonna. We chatted for around 45 minutes during which she asked what other stuff I'd done, who I'd worked with, my work ethic, and how I keep people motivated.
"We seemed to hit it off. We joked and laughed a little bit and I asked her a few questions. Two days later I was back on tour, so I didn't really give it much thought after that. About three weeks later I got the call saying Madonna was happy for me to do it, if I was still available – and the rest is history!"
It is clear from talking to Danter and his touring colleagues that Madonna is a perfectionist, and he was keen to point out that it didn't bother him in the slightest.
He explained: "She puts in a lot of time, more than a lot of other artists. She's toured for long enough to know how she wants things to go. She sound checks and rehearses every day just to get used to the room, we have to be ready to go by midday. To achieve that, we do 30% of the work the day before show day and the remaining 70% on the day. There have been times where we haven't been able to do that and we've had a couple of buildings where we've started at 2am and worked through until 5am – something I wouldn't recommend!"
The gruelling schedule requires 90 touring crew, as well as 45 vehicles comprising 13 buses and 32 trucks, making 135 people all together with drivers, and other local crew being brought on at each venue.
TRIED AND TESTED
Set design specialists Tait Towers fabricated all of the staging and automated rigging elements for the show, as well as all of the props. The stage design was in three components – the main A-stage, which was backed by a huge modular video screen, the runway, which was in the shape of a cross, and the heart shaped C-stage that had another large lift. In the centre of the catwalk was a circular B-stage with a scissor lift that could rise above the stage.
Brian Levine, Head of Project Management at Tait, commented: "Because of the tight schedule and the long rehearsal period, we built two of everything, which meant building a 'mock' of each element in the show to allow rehearsals to begin while the touring version of the show was being fabricated. The challenge was making a lot of decisions about size and scale for the mock props which would force us to match those constraints for the touring versions."
Tait didn't provide any staff for the tour, aside from those who were involved during the long rehearsal period. This meant that the elements were created with a variety of venues in mind, as the kit would remain the same throughout the world tour.
Although Tait were charged with fabricating the pieces alone, the company drafted in long-time collaborators, Stufish – who were brought into the fold again by Madonna personally, following the success of the MDNA tour – to design the stage and prop scenic elements. The company then provides Tait with the specifications and aesthetic design intent it has to follow.
Levine continued: "Tait has a very long and successful relationship with Stufish. Throughout the process of creation and prototyping, we are in constant communication confirming details and finishes. During this time, we share our progress through photos and many shop visits."
Tait also designed and fabricated the preceding MDNA tour [TPi Sept 2012], which Levine said has given the company a good understanding of the demands and challenges that come with working for an artist of such magnitude.
He said: "Madonna is very specific about what she wants and is a creative genius. She is incredibly astute and can identify whether something is built an inch off from the mock version or whether the materials have changed. That is exactly why we enjoy working with her, as our business demands great precision, accuracy and reliability.
"This show was a visual spectacular. Each song is accompanied by a different theme, prop and use of stage set, and it is clear to the audience how hard she and the crew worked to perfect the show."
THE ART OF COLLABORATION
Stufish Entertainment Architects' Project Architecht, Ric Lipson, commented: "We have a long-standing relationship with Live Nation who promote the show and Madonna. Having worked on many Live Nation shows over the years, such as U2, Lady Gaga, Britney and Madonna. We also did the Madonna show in 2012 (MDNA) where we designed the whole show and the custom made roof that allowed the show to happen in stadiums. This was a new construction for Stageco, which has since gone on to be used widely."
In 2012, Stufish created the set and stage design for MDNA, which included the 36 Matrix video cube lifts as well as many bespoke scenic props that were used throughout the show – also built by Tait.
Around 60% of the shows Stufish designed in 2015 ended up being built by Tait. Lipson continued: "At Stufish, we work from initial sketches and concept design in house and with the client to create the concept and the major design statement. We then do the more detailed schematic design and with our in house design and visualisation department we create a full 3D CAD package and render illustration storyboard for most of the shows including any kinetic movement with animations developed in house.
"We then work with Tait to take our design and creative information and turn it into modules that either fit into the Tait rental stock or, where a new solution is needed, we work closely together to get a system that can be engineered by Tait to fit into trucks and be built quickly."
Stufish tends to come up with the original staging concepts, then consults with a company like Tait to iron out practicalities like weight, size and ease of transport. The Madonna tour in particular also saw a great deal of collaboration from the artist herself when it came to concepts and design. Lipson said: "On a show like this, Madonna is very involved. We take all the conceptual ideas from Madonna and her Director, Jamie King, and work with them to decide how this will manifest in the physical shape of the stage, the areas for video, what kind of kinetic props and staging will be required and what the smaller, more delicate handprops might be."
Lipson explained that some of these ideas develop from the content of the music before being fused together with the overarching narrative journey of the show. This allows the choreographers, director and other creative departments to have flexibility in the stage space, giving options for how it can be used in different ways throughout the show.
"We develop our designs alongside the lighting and video designer to make sure there is a holistic approach to the design where the lighting, set and video elements can all work together to complement the design and form of the visual spectacle," Lipson said.
Despite the team having more time and money to play with than they do on the majority of other tours, the complexity and meticulous attention to detail required on a Madonna show meant that everything took longer to finalise and integrate.
Lipson concluded: "The thorough process of rehearsal is unprecedented in the pop / rock show circuit and the design elements have to be created along with the vision on the show at a fast pace and at the highest quality. The combination of years of experience working with Tait and other members of the production and creative team allow the process to happen as well as it could in the time allowed."
One of the most striking pieces of engineering on the show was the 8.5 metre by 4.8 metre video screen, supplied by Tait, which when flat was flush with the main A-Stage and also danced upon. It could be raised by hydraulics up 2.5 metres, pivoting from flat to 90° vertically in 30 seconds, and was affectionately known as 'The Machine'.
Lipson elaborated: "We have four massive lifting columns, linked together by large beams, that allow The Machine to rise out of the stage. There are also four major rams that allow us to counter-rake the upstage quarter of the stage when we need to. It's a 55,000lb machine so it's very heavy.
"It comes apart into four big lifting columns, then it all gets linked together with massive pins, and the whole video screen top is modular. To say this is a hard show to do would be an understatement. It's physically hard, mentally hard, everyone's exhausted, but it's one of the biggest and most ambitious shows we'll ever do. The sense of achievement afterwards is mind-blowing."
HIGH-STAKES LIGHTING
The penetrating stage design set a number of challenges for Lighting Designer Al Gurdon and his PRG-supplied rig – including the need to light performers much further into the audience than is usual. "We're lighting large groups of performers but want to avoid washing into the audience," he explained. "To that end, the GLP X Bars became a significant part of the design and were used to delineate the stage and uplight the performers." Used to connect the stages, the X Bars gave Gurdon a number of options for shaping and defining specific areas. In total, 39 GLP impression X4's, 38 impression X4 Bar 10's and 84 impression X4 Bar 20's were used to complete his successful design.
Overhead, the lighting is rigged in arrays in a number of pods around the stage. Gurdon used the fixtures individually and in conjunction with one another to giving the effect of one very large source. Balancing the lighting is a big part of the process on Rebel Heart. Gurdon added: "I am used to lighting for camera. We have two IMAG screens and although they're not particularly big we have a fair few close-ups, so Madonna has to be lit in an appropriate way. I work closely with Video Director Bert Paré, who decides on the shots."
Followspots were used for face light on Madonna, which was precision work. No matter where the crew were in the world, the spots were always in the same place on stage and at the same level. Colour temperatures were carefully metered and matched for every show, while the uniformity of key light colour and intensity was a vital part of the job.
"A couple of the spots are used for selective pick-ups for other performers but mostly, they're used for Madonna – not all are used at the same time and the plan for pick ups is precisely choreographed," Gurdon explained.
"Essentially Madonna needs to be perfectly lit everywhere she goes. The challenge is she is surrounded by people who also need to be lit in a different way. This makes the actual keying process extremely complex. Probably more so than any show of this type. Every show is like producing a DVD!"
Gurdon stressed that every fixture on the show has been carefully chosen. Clay Paky Mythos' dominate the overhead rig, serving as the main workhorse of the show. "This is primarily because they give a very punchy beam from a relatively compact fixture, the colour mixing is a great development and they go wider than their predecessors, the Sharpys,"
Gurdon chose the Ayrton Magic Panels for their versatility, which were arrayed in pods and used in a number of different ways. He said: "I also wanted to use a group of Clay Paky Stormys to simulate a big flash. There's great advantages to that. With the pods you can use them individually, or in single rows or collectively for really big moments, as well as being able to change the output colour!"
Touring Lighting Director Josh Hutchings had the task of recreating Gurdon's design in each and every venue on his two PRG V676 consoles: "It's been a real pleasure. There are hundreds of focus positions and each one has to be spot on. It's certainly not your typical 20 focus position show and run."
Hutchings explained that the look and feel of the show is theatrical as opposed to a big pop show. "We've had our challenges. Every venue is different and that has given us some trim-height issues during the tour. My task is to protect the show from change and yet maintain the integrity of the design. Madonna notices just about everything. You won't meet anybody who works harder than her. I meet with her everyday just before sound check, just to make sure that she's comfortable with any changes we've had to make. We walk her through all of her followspot locations so there are no surprises during her performance."
Given the tightly-scripted nature of the show, the team used time coding, with the exception of one section of the show, where Madonna can pick from a number of songs based on how she's feeling and how she reads the audience.
Prior to this tour Hutchings and Gurdon worked together on a handful of TV shows. Hutchings added: "It's been a unique challenge for me because I don't do a lot of touring. This is my first tour, certainly of this calibre, and it's been great fun."
A WELL-OILED MACHINE
A crucial consideration was the angle that the team lit Madonna from. The camera beauty shots for the IMAGs needed to be consistent and without glare wherever she was on the stage.
"There's a small team of people who just look at the camera output to ensure Madonna is lit correctly each night," said Lipson.
"Al knows how to make artists look great at any scale, both in the live environment, but in particular through the eye of the camera."
Lipson had worked with Gurdon before on MDNA so they already had a good working relationship. "From early concept we knew we wanted to delineate the edge of the stage with light," he continued.
"We knew Madonna required plenty of spots to keep the IMAG content balanced, regardless of where she was on the stage. We also needed a substantial overhead rig – there's a lot of catwalk to cover with this show!"
Originally the rig was going to be dynamic. "We wanted it to transition from overhead to form a wall of light upstage but for various reasons we had to compromise and instead went for the finger trusses," explained Lipson.
"So, to create the wall of light Al came up with the pod system and that worked really well."
Video content also absorbs a major part of the budget and with an eclectic set list that included 25 back catalogue hits plus the new album highlights, most are backed by one of 22 different video sequences created by Montreal-based media studio Moment Factory, Veneno Inc, Danny Tull and a host of additional video directors. AUDIO CONSISTENCY
As with the stage set and lighting rig, the audio crew and equipment on the tour were roughly the same in the US and Europe. The audio supplier, Eighth Day Sound Systems, duplicated the US rider out of its UK office and the production flew over the core control equipment with the stage. The touring crew worldwide is also the same, mainly as most of them have specific cues and one of Madonna's highest priorities is maintaining consistency throughout the tour.
The company has worked with Madonna since 2006, initially due to the fact that the music director and FOH engineer at the time were in search of a certain type of console and speaker.
The exclusively d&b audiotechnik PA system was made up of 68 J8 loudspeakers, eight J12 loudspeakers, 16 J-SUBs, 12 B22-SUBs, 24 V12 loudspeakers, eight J-INFRA subwoofers, 12 Y10P louspeakers, and 65 D80 amplifiers with ArrayProcessing. The Rebel Heart tour also had two DiGiCo SD7 consoles and an EX-007 fader expansion unit for control, which was specified by FOH Engineer Andy Meyer, who we last met on Justin Timberlake's tour.
Project Manager for Eighth Day US, Jason Kirschnik, explained: "The choice of equipment stems from Madonna's need for consistency. This basically means giving her the best sound available to her on the market. ArrayProcessing has to do with consistent energy coverage on all plains, anywhere in the arena or stadium. There have been small configuration changes over the years as technology has improved, the last tour had d&b with D12 amps, but the core has remained DiGiCo and d&b."
"All of the feedback from the road has been positive, with the shows sounding great – from our point of view, that's all you can ask for. We have a great relationship with both d&b and DiGiCo so they are more than happy to help with any servicing or equipment that we need. We also do extensive training with DiGiCo and d&b so our techs are pretty high level when it comes to the products themselves. This means we're quite self-contained."
The crew used Sennheiser ME 5005 e condenser microphone heads and MD 5235 dynamic microphone capsules on six SKM 5000 Series systems. Drums were mainly mic'd with Audio-Technica instrument microphones, along with a Shure Beta 91A in the kick drum. Sennheiser's 2000 Series was used for guitars and an accordion, along with Radial DI Boxes. To capture the energy of the live show, the chosen audience microphones comprised Sennheiser MKH 8070 Long Gun condensers and Neumann KS184's.
The touring audio crew was completed by FOH Tech, Mark Brnich; Monitor Tech, Wayne Hall; Audio Tech, Demetrius Moore; RF Tech, Clinton Reynolds; Intercom Tech, Mike 'Stacker' Hackman; PA Techs, Rachel Lawrence and Greg Horning; Monitor Engineers, Matt Napier and Sean Spuehler; and Music Programmer, Dan Roe.
BLACK IS THE NEW ALUMINIUM
Mojo Barriers has worked with Madonna on previous tours, with her becoming the first artist to use its new lighter touring barrier on the MDNA tour.
Project Manager at Mojo Barriers, Stanley Jilesen, met Danter while he was in Holland working on a Lady Gaga tour. This resulted in the company being contracted to supply all Madonna's European tour dates, as well as two further dates of the tour, in Taipei and Macau.
For all 25 European tour dates, Mojo supplied nearly 200 items of kit, including vario corner sections, snake gates and flex corner sections. This included a variety of barrier products for the front of stage and FOH production areas. Mojo's wide range of special curves and corners in black aluminium made it an ideal choice, as the cross design and heart-shaped B-stage were complex structures.
A Mojo Barriers crew was not required as the carpenter crew installed the barriers at every show, though it did supply a supervisor at the first tour date to instruct the crew on installing the barriers safely.
Jilesen said: "Although this wasn't a challenging install, the shape of the stage did make this slightly more complicated. Madonna's large elevated stage was complete with an extending catwalk with a circular stage half way down and heart-shaped stage at the end. Madonna wanted the barriers to be very close to her stage in order to increase intimacy and have close contact with her audience."
The shape of the stage meant it was slightly more difficult to get the barriers as close as was requested, so the Mojo team used specialist stock, including corner sections, to ensure the shape was spot-on.
Jilsen continued: "Madonna always prefers black barriers to blend into the show, rather than the more commonly used silver aluminium."
In Europe, the standing shows meant the barriers needed to be able to withstand increased crowd pressure. Jilesen stated that Mojo Barriers worked closely with Danter to design a barrier layout that suited the show and enabled Madonna to be as close as possible to her audience.
Away from the main arena, Beat The Street provided bussing for the European leg of the Rebel Heart tour, while Fly By Nite supplied trucking and Eat Your Heart Out took care of catering.
Photos: Sarah Rushton-Read and Stufish
www.madonna.com www.taittowers.com www.mojobarriers.com www.8thdaysound.com www.beatthestreet.net www.flybynite.co.uk www.stufish.com www.prg.com www.venenoinc.com www.momentfactory.com