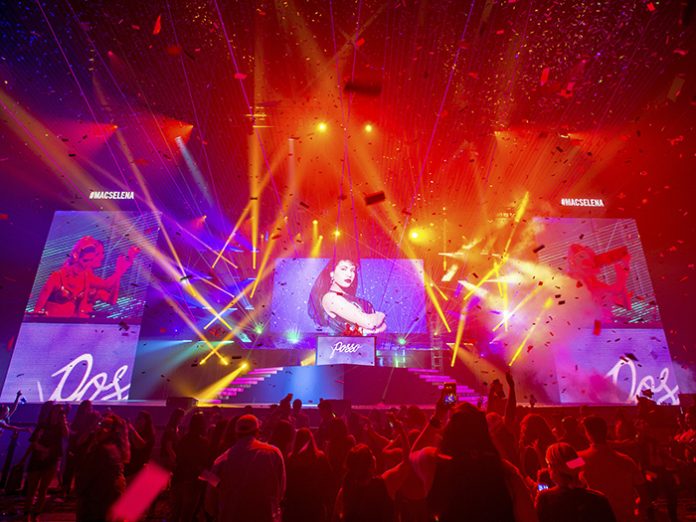 Handling the lighting for the M.A.C. Cosmetics / Selena world premiere at the American Bank Centre in Corpus Christi, Texas was Axis DeBruyn (of Axislights.) He incorporated 48 of GLP's versatile X4 Bar 10 battens in his design, which were supplied (along with the video and scenic effects) by PRG Las Vegas. The concert arena was transformed into a Selena paradise with purple lights, purple rugs and purple Dillard's kiosks, to promote in honour of the Hispanic fashion designer Selena Quintanilla-Pérez.
Axis was adamant why he chose the X4 Bars in preference to other fixtures. "With the huge video walls I had a lot of vertical space to fill and needed fixtures that were low power, high impact and could make the signature 'Selena' purple colour so the camera wasn't in a 'black hole' background. The X4 Bars filled this hole very well." He added, "Slow tilt chases were perfect for the singers, many of whom covered Selena ballads, while the strobing and chase effects were also very effective in the DJ portion of the night."
The LD had been introduced to the X4 Bars by GLP sales representative Dave Barten, with whom he has a long relationship. His debut with GLP's X4 Bars could scarcely have provided a more invigorating experience. "I was impressed by the different looks and effects I was able to achieve," said Axis in summary. "I especially liked the way I was able to get random twinkles out of them with some cell effects.  This combined with the tilting toward and away from camera gave me some great looking background for video.
"The X4 Bar 10's are so small they just disappear when you're not using them and I was able to 'surprise' elements from them when leaving them off for a few numbers and reintroducing them later in the set. Focus effects also made the DJ sets cooler the way I could chase from wash to beams across the background."
Finally, he takes comfort in having such a strong support team behind him. "I must say that with Mark Ravenhill, Carl Wake, and Dave Barten on board, GLP really has some industry big guns capable of moving their products right to the forefront."
www.germanlightproducts.com