Luke Combs' touring camp has recently entrusted a catalogue of Shure solutions to ensure reliable and interference-free audio transmission of its wireless microphone and in-ear monitor systems on the American country singer-songwriter's Growin' Up and Gettin' Old World Tour, as it traversed the globe, performing in arenas across the UK.
With streaming services pushing country music to the forefront of the UK music scene, and the triumphant Country to Country (C2C) music festival taking place annually, country music has never been more accessible.
On site at London's The O2 ahead of Luke Combs' final night of back-to-back shows in the venue, marking his last date on the transatlantic touring calendar – Jack Drury, Artist and Entertainment Relations at Shure, emphasised the brand's excitement for supporting this landmark gig for the growing country music scene, and the artist's camp.
"We are proud to support this tour. Jason Waufle [Shure Manager of Pro Audio Product Marketing] has done an awesome job at building and nurturing a relationship with the Luke Combs camp in the US. It has been a Shure-heavy rig from the outset and we're happy to play a small part in the delivery of this impressive production."
Combs' team of engineers and technicians utilised Shure Axient Digital's Frequency Diversity mode to ensure uninterrupted audio with 40 channels of Shure wireless products, climbing up to 110 frequencies on stadium shows, including coordinating for the opening artists. On stage, Combs also personally used a Wireless Cardioid Condenser handheld KSM11 microphone on-stage – meaning that transmitting the audio from one capsule to two separate, uninterrupted frequencies was of paramount to RF Coordinator and Monitor Technician, Dan McLaughlin.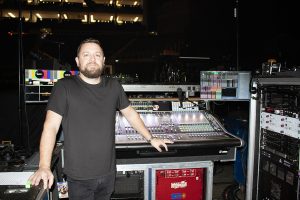 "In the US, my DTV channel is six MHz but here in the UK it is eight MHz, which is more usable. It is even easier in Australia," he explained, citing how he regularly takes advantage of Shure's Wireless Workbench, as an early adopter of the free-to-access software. "This year, we switched out a few in-ear channels to be higher in the duplex gap because going into the stadiums, I had looked ahead of time at the scan data and I saw that it wasn't going to work. Having that foresight and making a swift change to the systems has made for a much easier tour."
The wider Shure-heavy RF rig featured a PSM 1000 in-ear monitor system, an AXT600 Axient Spectrum Manager, a AD610 Diversity ShowLink Access Point, ADX2, ADX2FD and AD2 Beta 58 handheld transmitters, ADX1 and AD1 Backline bodypack transmitters. A PWS Alpha combiner was used on the Axient microphone/backline equipment to create a multizone antenna network.
Collaborating with Mission Control, McLaughlin worked alongside Sam Cloud to help coordinate the tour's RF in Europe. "The support from Mission Control and Shure has been amazing. Jason Waufle has become a good friend of mine; he provides regular support and is a top-notch person. Although Shure is a massive company, Jason has been my direct line of contact, which makes the world of difference."
Monitor Engineer, Michael 'Zues' Zuehsow mixed the band on a DiGiCo Quantum SD7 console with processing courtesy of three Rupert Neve Designs 5045 primary source enhancers, a Bricasti M7 reverb and a Klang DMI Card. "There was something about the KSM11," he said, reflecting on Luke Combs' vocal mic of choice. "When Luke sang into it during rehearsals, it struck us as exactly what Todd and I were looking for. We felt it was the one microphone that could capture and amplify the unique characteristics of his voice."
FIR Audio Xenon6 were the IEMs of choice for artist, band, and wider crew. FOH Engineer, Todd Lewis mixed the band of eight on stage, using around 128 channels on his DiGiCo Quantum SD7 console, including talkbacks.
The complete control package was provided by Combs' longstanding audio vendor, Special Events Services. For the UK dates, Adlib provided an L-Acoustics K1 and K2 PA system, offering further on-site support. "SES always provides excellent support and equipment, likewise with Adlib, who we are collaborating with for the first time in the UK."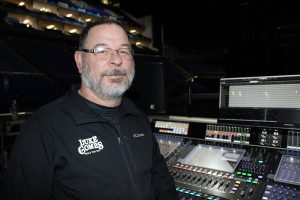 Despite running snapshots, Lewis preferred not to automate EQ within his mix, explaining: "I think it's dangerous because we're playing arenas and theatres and you can't get away with it. Our tones are consistent; once I get a basic blend I can go from there," he remarked.
Lewis' studio-worthy outboard gear included a Bricasti M7, an Eventide H3000, a Rupert Neve Designs 5045 and Portico II. Meanwhile microphones came in the shape of Shure KSM11 for vocals, Sennheiser E901 condenser bass drum microphone, Shure Beta 52A kick drum microphone, SM58 dynamic vocal microphone, Beta57, E614, E904, VP88, and Beta58 with DPA 5100 models chosen as ambience microphones.
Between the famed nightly proposals and the sheer volume of the crowd, Lewis says every show is raucous, unpredictable and a pleasure to mix. "The audience hit 110dB at the first London show after a couple got engaged," he remarked.
Before a cascade of cowboy boots, hats, and plaid shirts descended on to London's The O2 with a thirst for beer and live music, McLaughlin reflected on the astronomic rise of the artist and the camp's growing symbiosis with Shure infrastructure in recent months: "It is cool to see how fast he, and country music in the UK and Europe is growing. This tour has been a career highlight for a lot of us involved, and we couldn't have done it without the technical support of Shure."
Words: Alicia Pollitt
Photos: TPi