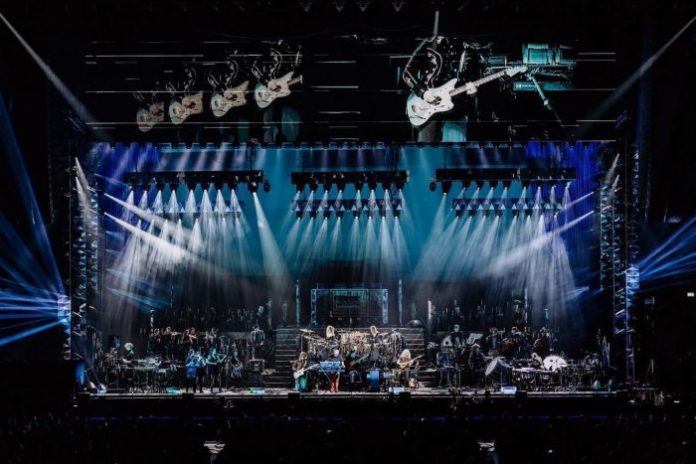 Produced and promoted by RCI Global and Semmel Concerts, Hans Zimmer Live is a major arena entertainment spectacular. More than just a concert, the show features Zimmer, a band, an orchestra made of acclaimed musicians from around the world, and a troupe of dancers and singers — all performing works from Zimmer's multi-award-winning catalogue.
The performance features arrangements from many major motion pictures, including the Academy Award winning films Dune, No Time to Die, and The Lion King, as well as fan favorites The Last Samurai and Interstellar. The show takes the audience on a three-hour thrill ride through some of the greatest music in film history.
With ten musicians from the Odessa National Opera Orchestra, the show is also a poignant and moving statement on the power of music, as well as a condemnation of the Ukrainian invasion. In Zimmer's own words, "The greatest weapon we have against war and brutality is art… We're playing all these countries, making music and moving people, and up there on the stage… are people from Ukraine."
In late 2019, Lightswitch joined acclaimed Broadway designers, Derek McLane and Peter Nigrini, to create a production design team in which everyone collaborated seamlessly, crossing arbitrary departmental boundaries to create a nimble, flexible experience for all. The team was empowered by Zimmer to explore "what if": What if a lighting system could truly be designed and programmed in ways that were more musical than numerical? What if theatrical scenic design could be brought to arena touring, with a real sense of drama and location? What if media design could be woven into lighting, at times with restraint and at others with breathtaking exuberance, to contextualise motion picture music without resorting to the obvious motion picture content?
"Hans wanted a totally distinctive aesthetic, and it's a long show so we wanted to take the audience on a visual journey that was in keeping with his musical journey," noted designer, John Featherstone, who said: 'It's visually musical, if you know what I mean. The lighting illustrates Zimmer's movie music, from the gentle Asian influence of The Last Samurai to the crazy psychic world of The Dark Knight. His music covers all genres, so the design needed to be something incredibly versatile that ticks all those boxes'."
Choreographer, Barry Lather joined the project to direct the choir/chorus: a group of multi-talented singers, dancers, musicians, and aerialists. The comprehensive lighting system was provided by Satis and Fy and featured 250 MegaPointes (many on Cyber Hoist kinetic trusses with mirror facias), BMFL Wash Beams (some with RoboSpot control), and the first major tour use of both Terra 1 and Tetra 2 linear LED moving battens — an all-Robe rig. Custom fixtures included arrays of incandescent colour temperature bulb LED rod fixtures, as well as an eight-foot diameter "micro tile" mirror ball.
Just like Zimmer's music, Lightswitch's design embraces the unexpected. The show opens with a stage-level, 15" high full-width LED screen backing an unexpectedly soft and ethereal overture from Dune, featuring talented vocalist Loire Colter. The screen then flies away to reveal the band and a company of bagpipers for Arrival of House Arrakis.
Moving through Wonder Woman, Man of Steel, Pirates of the Caribbean, the utterly unexpected Absurdities Suite, The Last Samurai, Dark Phoenix, and The Dark Knight before reaching Interstellar, The Lion King, and James Bond, the visual design shifts and transforms with the music to constantly engage, excite, and enthuse the audience. Critics have been effusive in their praise of the tour and its visual design, calling it "bold," "innovative," "precise," and "breathtaking."
The project is playing throughout Europe until May of 2022, before pausing until 2023 when tours are planned for Europe, North America, Oceania, and Asia.