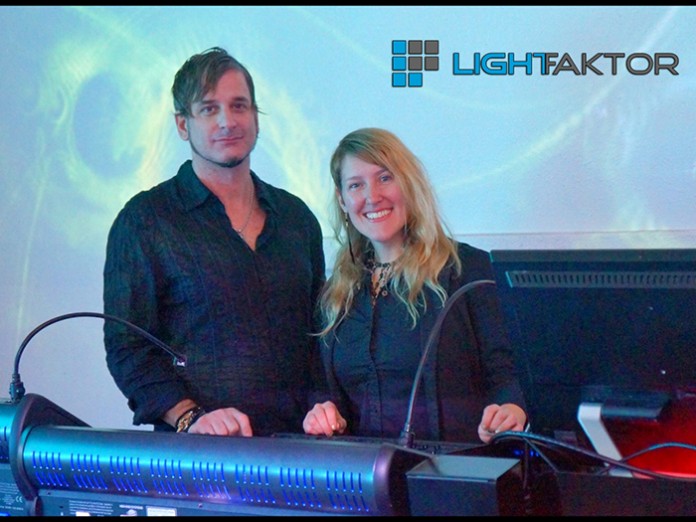 The demand for experiential environments has led architectural lighting design firm and custom lighting fixture manufacturer LIGHTfaktor to open an events design and rental division.
To lead this new growth, LIGHTfaktor brought in lighting specialist Amy D. Lux as the Events Division Operations Manager.
To enhance both its fixed install and rental services, LIGHTfaktor has just inked a contract as a Robe dealer to offer an array of advanced entertainment technology from the Czech Republic-based manufacturer. Both divisions will operate out of LIGHTfaktor's headquarters and showroom in Austin, TX.
The rising popularity of its experiential, interactive, engaging environments led to the formation of this new division, said Wes Lane, Principal and Lead Designer: "We specialise in creating environments for permanent and one-off spaces, as well as designing custom lighting fixtures.
"The demand for both of those services has increased dramatically in corporate branding events, product launches, parties and other high profile occasions. It only made sense to open this division with a dedicated team to focus on this segment of our business," Lane explained.
Lane launched his lighting career in 1992 as a Product Design Engineer for entertainment lighting manufacturer High End Systems. Drawing on his involvement in some of High End Systems' most popular legacy products, and with eight U.S. patents to his name, he started Solux Lighting in 2000, and then reinvented his business model to transform it into LIGHTfaktor in 2006.
LIGHTfaktor's mission centres around experiential, immersive atmospheres using imaginative designs along with high quality and custom lighting products. Over the years, A-List clients such as Dell, IBM, Capitol One, Formula 1 Racing, SXSW and more have sought out the company to satisfy their whims for a 'wow-inducing,' sensory-engaging environment.
Meanwhile, LIGHTfaktor has infused that same wow factor into a plethora of permanent commercial installations such as hotels, nightclubs, public spaces and retail environments – as well as luxury residential applications – throughout the U.S.
Major architectural projects in the works include a three-story tall custom chandelier, which is audio responsive and motion responsive, in the multi-level flagship Topgolf entertainment venue at MGM Las Vegas. A current public works project features a three-story interactive fibre optic wall sculpture at the former Seaholm Power Plant, which is undergoing transition as a future urban oasis, in Austin, TX.
"Having a separation – drawing a line in the sand – between our events and architectural divisions allows me to free up bandwidth," Lane said. "It enables us to have better focus. It was disruptive in the past to interrupt a major architectural installation and have our crew switch gears to work on a corporate one-off. Now we feel like we can give our architectural and event clients the best possible attention and service they deserve."
The events division will not compete with the local rental houses for the local music gigs, Lane stressed. "Our specialty is upscale, experiential events that appeal to the senses. We've handled many music oriented events but for corporate clients. Whether it's fibre optic decorations, interactive LED walls, LED chandeliers and more, we focus more on the high end clients who want something out of the ordinary, something extraordinary."
"Bringing Amy onboard marks a significant change in the infrastructure at LIGHTfaktor. We're excited by the potential her talent brings to the event lighting division. Amy will play an integral part in the growth and development of LIGHTfaktor Events," he said.
Amy D Lux brings in a background of concert touring, theatrical and corporate show experience. She's served as Lighting Director and / or Designer for such artists as Sam Hunt, Esperanza Spalding, Sara Evans, Phil Vassar, and John Oates as well as a host of other shows.
Topping her corporate design list is the live worldwide broadcast of the Formula One Federation Internationale De L'Automobile Annual Gala Awards in Qatar, among others. Feature films, promotional videos and commercials also play a role on her resume. She is technically trained and certified for electricity, power distribution and control systems, along with fixture repair and programming from a variety of entertainment technology manufacturers.
"I am beyond thrilled to join the team at LIGHTfaktor," D. Lux said, "High level creativity blended with state of the art technology has always been the forefront of my personal vision and now I am right at home with a company that has a history of harmonising those elements with beautiful results. It's a great match!"