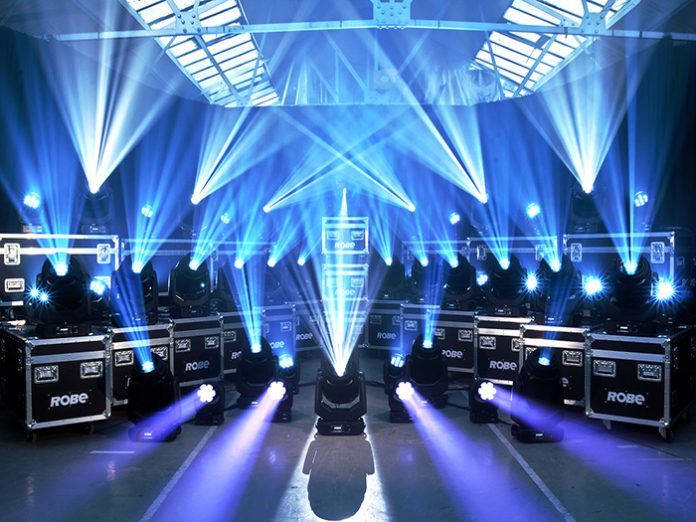 Technical production specialists Light Fantastic Production Services have made a large investment in the latest Robe moving light technology. The order included Robe's brand new MegaPointe and LEDBeam; 150 moving light fixtures plus a selection of Robe Pointes, Robin 600 LED washes and DL4X Spots in a custom white-bodied finish.
Based in Elstree, UK, Light Fantastic Services caters a wide range of prestigious projects providing lighting, audio, video and scenic services., providing extensive dry hire services to other industry clients. The total investment value was over a quarter of a million pounds, with the kit purposed to service Light Fantastic's action-packed ongoing project schedule and dry hire requirements. Founded and headed by Rob Myer, the company work primarily in the premium events sector, from high profile experiential events to private events.
Light Fantastic's 25 Robe LEDBeam 150s went straight into action on an experiential event for superhero movie, Justice League, staged for 10 days within a disused building in central London. Launched in 2017, the LEDBeam 150 proved a big hit due to the useful 3.8 to 60° zoom, which opened up a whole new range of creative and practical possibilities, together with the excellent colour range.
The white bodied Robe Pointes, Robe Robin 600 LED wash and Robe DL4X Spot fixtures are perfect for events in specific settings and spaces where working with white hardware integrates and blends the technology more discreetly into the environment. Light Fantastic are a unique supplier of white equipment in the UK with a range of lighting and audio equipment available for dry hire.
Myer concluded: "We know that Robe's quality and build means the kit will go on working day-in-day-out with minimal issues. LDs are always happy to see Robe kit on a show and these are all reasons why we've invested so heavily into their product range".