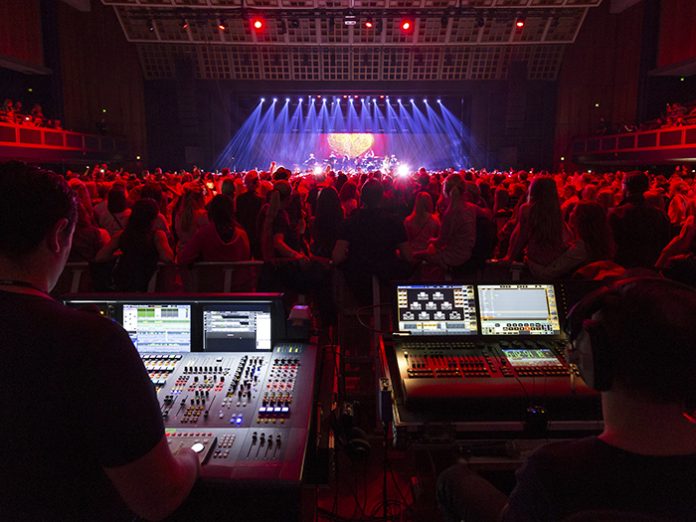 Meyer Sound's LEO Family has featured heavily on live tours with acts across the continent, including French band Les Insus and Danish singer Christopher.
A rock quartet formed by members of the legendary group Téléphone, Les Insus are touring major arenas in France throughout the year. Bob Coke is serving as FOH engineer for the band, and works with assistants Aymeric Sorriaux and Wilfried Mautret.
The band's production features a system with front hangs of 12 LEO-M over two LYON-W loudspeakers each in addition to 30 1100-LFC elements, 20 LYON-M loudspeakers for out fill, and 16 LEOPARD line array loudspeakers for in fill. Eight UPJ-1P VariO and six UPQ-1P loudspeakers provide front and near fills respectively. On-stage side fills are six LYON-M loudspeakers and four 900-LFC low frequency control elements.
All loudspeakers are provided by Paris-based Best Audio.
Danish pop sensation Christopher recently wrapped a tour of Danish arenas with support from a LYON linear sound reinforcement system. Dave Mørup, FOH engineer for Christopher, described the tour as a 'great experience'.
The Christopher tour system comprised main arrays of 20 LYON-M linear line array loudspeakers, while main arrays for the last two shows comprised 16 LEO-M line array loudspeakers for the larger venues. The balance of the system included four LYON-W wide-coverage loudspeakers, eight 1100-LFC low-frequency control elements, six JM-1P loudspeakers, and six UPA-1P loudspeakers.
The system was supplied by Denmark-based Victory Tour Production.
Both tours rely on a Galileo Callisto loudspeaker management system for system drive and optimisation.