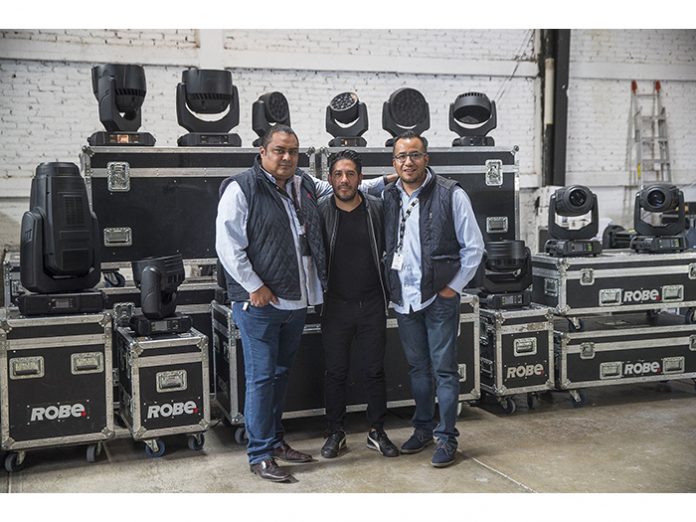 LED Project, technical lighting and visual / video rental specialists, Mexico City, is run by Sergio Serrano. Apart from owning the largest rental stock of current and new Robe products in the Mexico – with over 200 BMFLs, Spiiders, Pointes, LEDWash 300s and 600s, LEDBeam 1000s, CycFX 8s and MiniMe's – in the inventory, Sergio has been a major Robe brand ambassador for the last 5 years. He was the first in Mexico to purchase both LEDBeam 1000s and Cyc FX 8s.
Serrano first decided that LED Project should invest in Robe in 2013, shortly after the Pointe was launched. He saw big potential in the small size and multi-functionality of the unit for the Mexican rental market, where budgets are usually tight and all the kit has to be as versatile and stretch as far as possible. As the various new Robe products have come online since then, he's gradually sold off or re-homed his older series lights in long term installations where they are still all going strong.
His latest purchase from Robe's Mexican distribution SHOWCO, has been 12 Spiiders. These are shortly followed by another 12, and he also has his sights on the MegaPointe. "There has been a massive demand for Spiiders," he explained, "and having had so much work from the LEDWashes, I knew it was a sensible product with a good ROI. Apart from that it has the additional versatility of being a wash or a beam, with a fantastic array of colours, very smooth mixing and a beautiful quality to the light output."
The latest major shows in which LED Project was involved in include the EDC Festival in February 2018 at the Autódromo Hermanos Rodríguez, and Phil Collins at the Palacio de los Deportes in March 2018. Although there is some stiff competition pending, Sergio is hoping that he will be able to claim another Robe first in Mexico with a MegaPointe purchase.