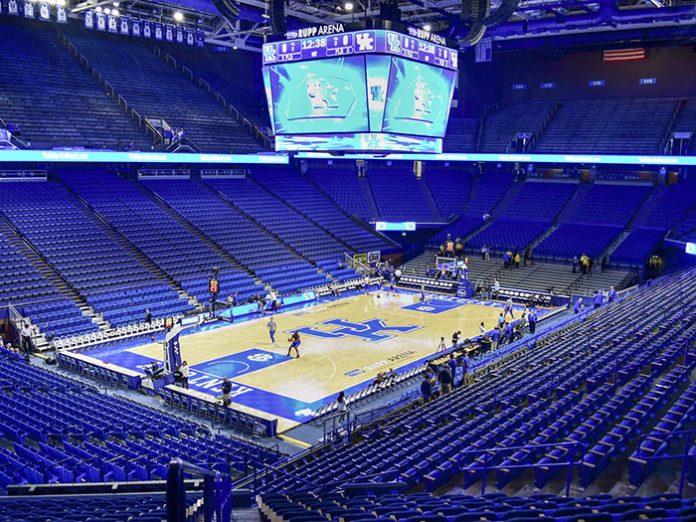 As part of an ongoing $15-million renovation that also saw a new video scoreboard installed, Rupp Arena, the country's largest purpose-built basketball venue, now has a new sound system from Loud & Clear. The largest L-Acoustics K2 sound system ever used as a fixed installation also brings tour-level audio that lets Rupp Arena accommodate many more events, such as concerts, using its own sound.
The new system, designed by Rupp Arena's technical staff – Rupp Arena Technical Services Manager Bob Stoops and Technical Coordinator Steven Grant, with input from Lexington Centre / Rupp Arena Director of Facilities Administration Merrill Richardson – working with L-Acoustics' Head of Integration Dan Palmer, and was installed by AV systems integrator Cincinnati-based Loud & Clear Inc.
The system consists of six K2 arrays: two 13-box K2 arrays covering the East and West sides of the venue, with four 12-box K2 arrays covering the corners. The corner arrays also have four L-Acoustics K1-SB subwoofers flown behind each of them. In addition, 12 ARCS II enclosures are hung underneath a new video scoreboard to cover the court below, while another set of six ARCS II are used as delay speakers for the uppermost six rows of the arena. Finally, 38 ultra-compact 5XT speakers are used as under-balcony fills. The system is powered by a combined total of 40 LA8 and LA4X amplified controllers.
Rupp Arena's staff is no stranger to L-Acoustics; they've had a Kudo system in the Lexington Centre's 1,000-seat theatre for the past eight years, and they own a small portable Kara system for the complex's convention centre. In addition, a K2 system was brought in last year as part of "Big Blue Madness," an event held there to mark the start of the 2015 NCAA season.
Stoops commented: "We knew we needed a system that would give us the sound quality you'd expect from a touring system but that would also give us the complete coverage we needed throughout the venue. The K2 has great pattern control, and we now have seamless continuity from section to section of the entire seating area. The K2 installed is really the best of both worlds."
"Out of all the major systems of the market, the L-Acoustics' sound was simply the most natural, both for music and vocals. Even in a very different environment like Rupp Arena, L-Acoustics has once again proved to be the right choice and our fans are enjoying the new sound very much." remarked Richardson.
The new system has one more design aspect that further enhances Rupp Arena's marketability for event production. The speaker arrays and amplifiers, which are mounted in LA-RAKs on the catwalk above the floor, can be moved to allow the speakers to accommodate other types of events, such as concerts. "The design of the system was intended to be multipurpose; they can lower two of the four corner PA hangs and the side hangs and move them to one end of the venue to create a concert configuration, leaving the other two corner hangs as delays," explained Joe Deavers, Loud & Clear's Installation Manager. Eric Cimini, Loud & Clear's Production Manager, echoes that assessment, underscoring how important that kind of flexibility is for multipurpose venues such as this. "That adaptability was a huge selling point for the K2." he said.
Looking at the project in retrospect, Deavers noted that while the venue was exceptionally large, it wasn't a matter of simply putting a big sound system in. "It needed a well-engineered system," he said, "and that's exactly what the K2 is."