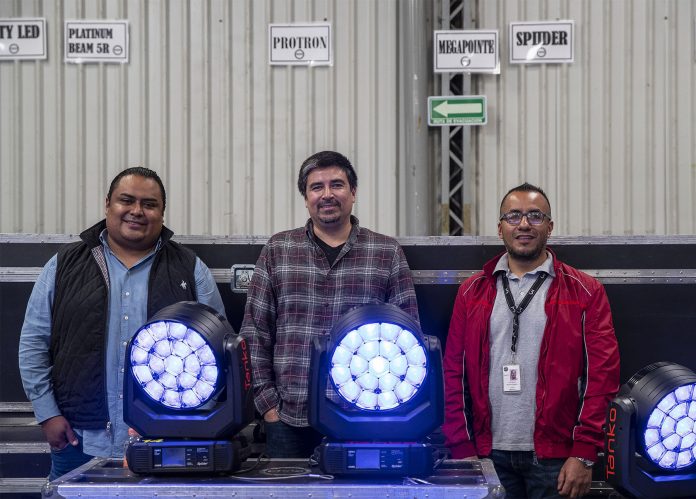 Kona has invested in Robe MegaPointes and Spiiders – currently, 26 of each type of fixture (soon to increase) and have also sold off their previous moving light stock, which was made up of competitor products.
Kona is a technical production company located in an industrial area in Mexico State, in the northern outskirts of Mexico City which was founded by Andres Marroquin in 2012.
Marroquin has worked in the entertainment technology industry for 24 years. His experience has included working for some large rental operations, and immediately before establishing Kona, he ran PRG Mexico / Ocesa.
Marroquin reached the juncture where he wanted to take his knowledge and run his own operation based on a more 'boutique' model of business, specialising in providing full – sound, lighting, video, rigging and staging – and technical production solutions for a diversity of events.
Kona works across all sectors for production companies and brand activation agencies as well as on live shows in fashion and television. As well as supplying their own projects, Kona has a cross rental business, especially on the new Robe kit.
"The market here in Mexico can be extremely volatile" he explained, "so as a smaller company, we need to think smart and be flexible. Mexico is in a unique position and our industry is in a very exciting place right now".
Marroquin initially noticed Robe becoming more prominent on the band and show technical riders while he was still at PRG Mexico. "In the last two years, that trend has spiked dramatically, and now most of the riders we see contain some sort of Robe element".
He chose MegaPointes and Spiiders as the first Robe investment based on the majority of recent riders passing across his desk.
He decided to work with Robe due to Showco – who was appointed as a distributor in 2016. He commented that "their quality is unrivalled, the response time if we need anything is outstanding and Showco embraces the same high standards that are at the heart of Kona".
He commented that Spiiders are a quality product that is easy to maintain and fix due to the modular design. He said; "Excellent wash fixtures with great colours and, with the effects, there's a host of other options and versatility which really widens the spectrum of applications".
Recent cross hires for the Robe kit have included (to PRG and Logra) singer Chayanne's tour which featured 120 MegaPointes in total, shows for Dead & Company, and the most recent season of 'Playing in the Sand' in Cancun.