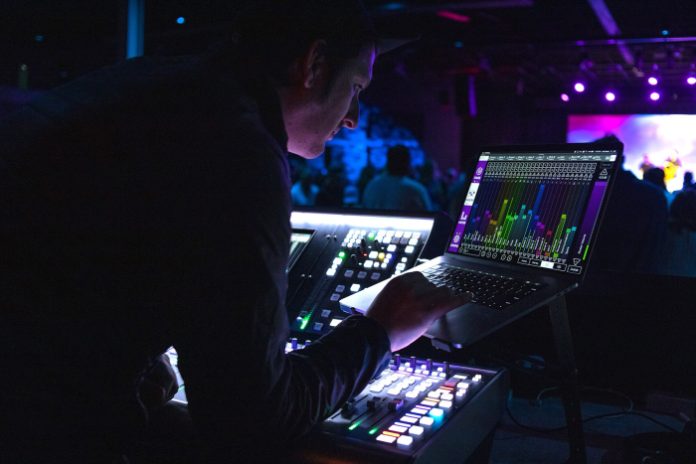 Last year, KLANG:technologies joined Jerry Harvey Audio in celebrating the launch of Sharona, JHA's new flagship IEM model. Twenty-four hours after the product's official debut, KLANG made an announcement that it would be giving away five extremely-limited KLANG-branded pairs of Sharona to the contestants that submitted the best photos of themselves using a KLANG product. Now that the winners have all received their custom IEMs, KLANG recently followed up with each recipient to find out how they're enjoying the new Sharona.
As part of Mosaic Church's production team for the past 16 years, Jeff Amato currently serves as Technology Systems Engineer for the Winter Garden, Florida house of worship, which uses a pair of :fabriks connected to an SSL L200 desk at FOH.
"The new Sharonas are incredible and a dream in comparison to what I was previously using," enthused Amato. "The fidelity and clarity is unlike anything I've heard. The bass/sub frequency dials are great for adjusting for different environments, and the attenuation of environmental noise is a huge win. They're also very comfortable—I've worn them for nearly six hours straight—and they look super-cool."
Supratik Das is a freelance audio engineer living in Mumbai, India that frequently uses a :fabrik with a DiGiCo SD10 or SD12 desk. He typically mixes monitors from FOH for most of the artists he works with, but also serves as a dedicated monitor engineer for several acts.
"The Sharonas are hands-down the best pair of IEMs I've laid my hands on," Das shared. "These are my first custom IEMs, so the isolation that I get with these is unparalleled. I can't hear any PA or stage bleed whatsoever without having to turn up the master levels to dial in a good mix. I've also been able to deliver better, cleaner mixes because they just sound so pristine. It's like having mini studio monitors inside my ears. What I love about them is the tonality, isolation, being able to tune the bass response as per taste, and lastly the beautiful carbon fibre case. I don't think I'm ever switching out of these."
Working as a freelance member of Belgium's Mono Soundteam collective, which is in the process of building its new Alaska Studios production complex, Stijn Declercq mixes everything from festivals and tours to broadcast audio and spatial studio recordings. For live sound mixing with artists like Lost Frequencies or Oscar and the Wolf, he uses a pair of :fabriks integrated with either a DiGiCo SD12 or SD9.
"What I immediately felt was awesome on the Sharonas was their low end," Declercq described. "On my first soundcheck with them, I listened to a mix and thought that FOH was on because my sub sensation was okay. But then I noticed my pants weren't shaking from the sub, so I took them out and found that FOH was not up. I absolutely love the low end and low-mids in these IEMs. Nothing compares to them, and I think that every bass player or drummer with a lack of low end in their ears should consider buying these. I also like the high end—cymbals sound really honest and the reverb tails are really nice and long, instead of what I normally find, which is a high end scooped, something a bit too harsh. I'm really happy with them."
Brooklyn, New York-based Jorge Denning is a freelance engineer that works with various production companies, local venues, and bands at both FOH and monitor positions. Most recently, he's been using a DMI-KLANG card paired with a DiGiCo SD12 to mix monitors for Khruangbin on tour.
"The first show that I used my Sharonas on was here in Brooklyn at the Brooklyn Mirage," Denning recalled. "It was New Year's Day with The Ritual (with Anané and Louie Vega) and Hot Since 82. I mixed FOH, plus did a broadcast for a corporate event in New Jersey, and the Sharonas sounded amazing. I've been a big JH Audio fan and previously used Laylas, which sound really good as well, but I love the high-frequency response in the Sharonas. They're really balanced."
As a freelance FOH engineer and part-time touring monitor engineer for Widmersound GmbH in Switzerland, Michael Nöth shares that his KLANG experiences started with a DMI-KLANG card housed in a DiGiCo Orange Box and connected via MADI to an Avid S6L. Lately, for more demanding shows, he uses a :konductor in combination with either the S6L or a new DiGiCo Quantum338.
"When I first received my Sharonas, I needed two days to get used to the new sound compared to my old IEMs," said Nöth. "I listened to a lot of music to find the right reference that I was used to in my head again. I found it quite useful that the low end contour can be changed via the screws on the cable. It took some time to find the right setting, but after that, it was quite impressive. The clarity, especially in the low end, is outstanding. Even if there are a lot of different signals in the low, I'm still able to distinguish them quite clearly. On other IEMs this would have turned into an indistinguishable mush. Also, the HF is extremely precise."
www.klang.com