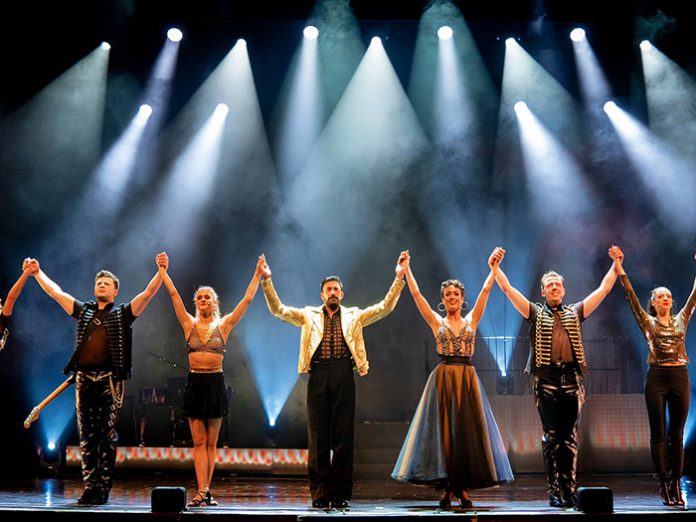 In 2022, lighting professional Jose Lorenzo used Obsidian's NX2 lighting console on Giovanni Pernice's This is Me dance show so when the Strictly Come Dancing star decided to tour a bigger show in 2023—Made in Italy—the designer again turned to Obsidian, but this time upgraded to the greater control possibilities inherent in the NX4.
"Because it was a bigger show, Made in Italy required an expanded control surface and more controls," Lorenzo explains of his decision to upgrade. "There was more busking involved and I needed access to more faders and more buttons. Also, as requirements have increased and Giovanni has become a bigger artist, there are more stage elements that require direct control. The time was right to upgrade and the NX4 was the right console to grow with."
The NX4 is the logical next step in Obsidian's ONYX lighting control platform, a full-featured console that offers 44 playbacks (10 motorized, 12 sub, 22 playback executors) vs 10 playbacks with the NX2. Lorenzo says that having the motorized faders made a massive difference. "When you've got motorized faders it makes your life a bit easier and just clears your head when you're operating the show. The fact that you can see what is actually up or down, what fader is acting or what fader is not, is invaluable."
With the bigger show and the need for direct access to more controls, Lorenzo says the NX4 was the right choice. "It gives you a clearer picture of what's happening and what's active. As you move through pages, you see the faders moving so it makes operation easier. Even some of the controls like haze or house lights, things I rarely change during a show that we used to have on the touchscreen as virtual faders, we have now moved to the bank of faders on the left hand side, which again makes everything a bit more visual. It's easier to overview rather than having to flip through the different screens."
The NX4 provided Lorenzo with other advantages like the use of external monitors for an even better overview and EtherCON connectively that he finds useful and more secure. He also takes advantage of the console's included Capture Duet lighting design software license. "We used Capture all the way through pre-production and I'm a big fan," he states of the lighting design, documentation and visualization software. "Obsidian talks to Capture seamlessly and vice versa. It's really quick with no hassle and the rendering engine is really good. Sometimes connecting a console with a visualizer can be a problem but Obsidian and Capture is pretty much plug and play."
Lorenzo used the NX4 as the main console on Made in Italy, running XNet, sAcn and Art-Net timecode with an NX2 console as backup. The show toured through England, Scotland, Ireland and Northern Ireland, 97 venues altogether from mid-January until the start of May.
Following the tour, Lorenzo used the same setup for Him & Me, a tour with Giovanni Pernice and another Strictly Come Dancing star, Anton DuBeke. Made in Italy and Him and Me, both of which highlight dancing and showmanship supported by a cast of professional dancers and singers, used similar setups with up to 6 Universes of DMX and roughly 60 moving lights and 30 static lights plus haze and atmospherics.
When Made in Italy held a special gala night at the London Palladium in April, Lorenzo had his NX4 there running 16 Universes across a large rig of 130 intelligent fixtures. "We cloned our touring fixtures to the fixtures at the Palladium and the cloning went really well. That's something I really like from the latest ONYX versions, how cloning and swapping fixtures is just getting smoother and smoother. When you are on tour sometimes you need to attach your showfile to the venue rig and with Obsidian it is really easy to clone and swap fixtures which makes it a no-hassle procedure for the operator."
Lorenzo continues to use the NX console's built-in pixel composer DyLOS, a full media engine that provides a new way to quickly program dynamic lighting effects by mapping video files to the color systems of lighting fixtures. "I absolutely love Dylos," Lorenzo exclaimed. "It's an amazing new way to create effects by using presets on videos to make dynamic effects. It has given us a new range of possibilities and is one of the most powerful tools I've seen integrated in a lighting console in quite a long time."
Applying video files to lights provides for easy effects composition while allowing users to build chases in seconds, something that would take hours and hundreds of steps by conventional programming. "My favorite feature of DyLOS besides the pixel mapping is being able to create an effect by applying a video to different presets," Lorenzo said. "It's one of the most important tools for me. If you wanted to do that with a traditional effects engine, it would take a long time. DyLOS makes every effect—position effects, color effects, etc.—way more interesting and more attractive than any other way of creating effects."
Lorenzo uses a pair of NETRON EN12 Ethernet to DMX gateways and a pair of 10-port NETRON DMX 10-5 DMX splitters for data distribution. He also hooked into and controlled the house lights at each venue. "Networking with the Obsidian series products is really easy and straight forward compared to piecing together a system using different brands," he said. "It is very stable, the functionality is great and access through the web browser is simple. It doesn't require a lot of training in order to patch. Configuring is straightforward and when we have a new technician it's very easy for them to find out how to make a change on NETRON because the interface is so easy."
Lorenzo transitioned from another lighting control platform to Obsidian's ONYX in 2019 and hasn't looked back. He is currently wrapping up summer dates for the "Him and Me" tour, which will again be out for a full schedule of shows in 2024. "As the show has gotten bigger and we go into bigger venues, auditoriums and concert halls, people often come up to me and are curious about the console," he says, adding that he takes the opportunity to train programmers on the platform. "I'm more than happy to show them"