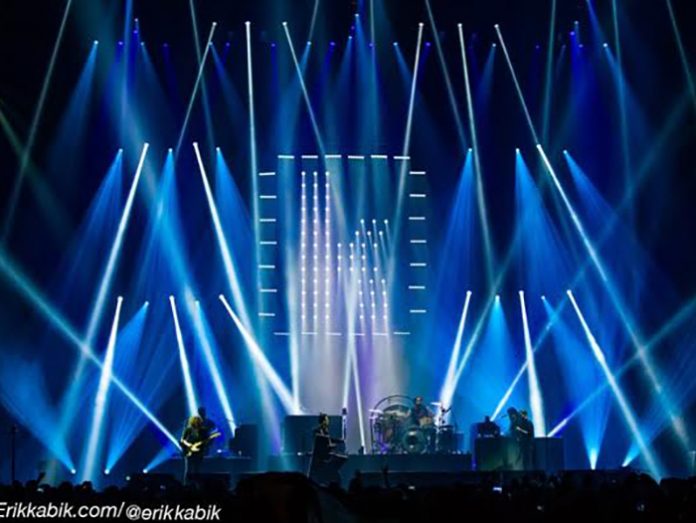 Lighting Designer Steven Douglas is no stranger to the delights of Ayrton fixtures. When he was looking for a new way to showcase The Killers' logo of a 'K', his previous experience of Ayrton MagicDot-R proved a fertile ground for firing his imagination. "We've had various incarnations of the logo over the years; I'd always thought it would be cool to build a giant 'K' out of moving lights but I was always put off by the size and weight it would inevitably end up being as well as the space needed between fixtures to allow to the head to move.
"When I saw the MagicDot-Rs for the first time it was exciting to think I had found a solution to the problem. Being able to mount the dots closer together because they are so small and do not move outside of the radius of the head itself meant that the concept was now a workable design. I spent a lot of time going back and forth with the guys at Ambersphere Solutions getting them lay out fixtures at different intervals and send me pictures so I could see in real life the gaps I had toyed around with in Vectorworks. As always, they were more than happy to oblige."
Douglas was concerned that, by trying to replicate the band's logo exactly, the dots would be too close together and simply produce a clump of light with little or no definition. Scale was also an important factor; the super-size 'K' needed to be in proportion to the stage and the lighting rig without losing the identity of the original font in the logo.
He continued: "Once we had figured out what we reckoned was the right separation between the units so we had clarity between each dot but retained a clear connection with the logo, I arrived at Ambersphere with biscuits in hand so we could do a proper shoot-out. It was essential that the MagicDots were not going to be too bright when pointing straight out into the audience even though I only use them at full-on and directly into the FoH area twice in the show. One of the great features of the fixtures was being able to spin them right round and point back onto itself and a glowing 'K'; the symbol is fully lit but without any intrusion into the audience space."
Once Ambersphere had answered all Douglas' questions, the supporting framework was constructed by All Access. To complete the look of the piece, Douglas asked for a rail to be built around the edges which are rigged with Ayrton MagicBlade-R units. The whole frame splits into eight sections and the MagicDot fixtures are permanently set into the sections that travel in custom made set carts. Presently touring in the US where the rental supplier is Christie Lites, Douglas is clearly happy with what a packet of biscuits and a day at Ambersphere Solutions has achieved.
"I've been able to create huge effect from these little beauties," concludes Douglas. "For one song just being able to do a simple pan moment and offset all the fixtures allows for a huge effect to come from something very simple. We will be using the Super 'K' for sometime to come."