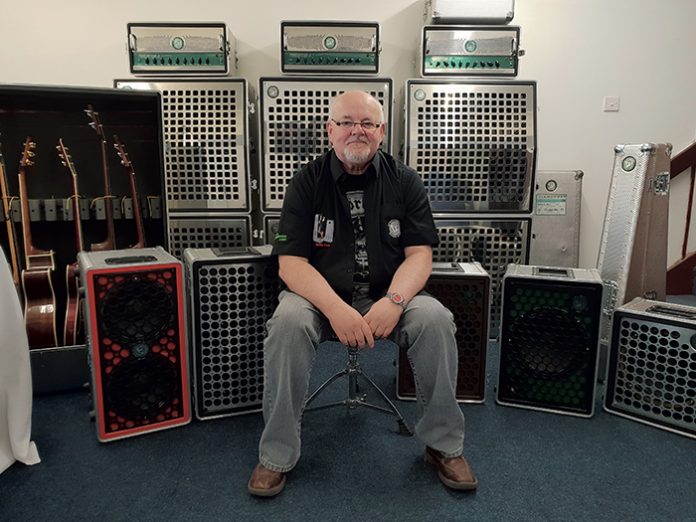 Like many company owners, you started out as a musician. How did you venture into the flight case manufacturing business? 
"I played in weekend bands and did several tours but I also worked in a music shop where I used to make standard cases for guitars. I saw a lot of guitars coming into the shop that had been damaged, and even my own guitar neck was snapped. It got me thinking; how could I  make a stronger case? I started by making plywood cases for my own guitars, amp heads, cabs and rack units. I went to a music show in 1976 and took one of my custom guitar cases with me. A  guitar manufacturer saw them and asked me to make some cases…"
You don't create your portfolio out of a traditional material, do you?
"No, our cases are bespoke and made from lightweight, durable aircraft grade aluminium with a special pattern rolled into the material for added strength.  This came about after making cases for the like of the BBC and Yorkshire Television; they asked for cases as strong as plywood, but lightweight. They had shown me their current cases made in aluminium plate were heavy. I looked at the aluminium products on the market and found one that was lighter and extremely strong. We began using that product for a military contract that we had and those cases went through a number of stringent tests (fire, drop, waterproof etc). It was at that time I realised I could make cases for musical instruments again, out of the same material which would provide a level of security for air travel and road use."
How have you seen the industry change its preference to flight cases over the years?
"There are a number of case companies that have turned to injection moulded and rotor moulded plastic cases which are currently on the market, but at the same time, the plywood cases are still going strong because of preferential use by established users of the conventional cases."
You've recently finished a new product line. How will this add to your family of products?
"As the result of our work with Allen & Heath in designing cases for their C1500 and SQ5/6 range, we were able to finalise the development of our speaker cabinet range because of the tooling we designed and developed to produce their bespoke cases. We are thrilled to shortly be releasing this line and it will compliment all the other cases we have developed with lightweight construction. We have been working closely with John Verity (former Argent member) to fine-tune the cabs to produce a big sound within a small cabinet for guitar and bass players. This product has a massive weight difference against the conventional wooden cabs and flight cases but provides a sound like no other.  We have also developed a range of PA cabs to compliment the whole series."
You're holding a charity auction later this year. What is it in aid of?
"The charity Rock Against Trafficking which was established by Gary Miller and Andy Fraser (bassist from Free) and they are currently selling a new CD to benefit the charity with a number of big-name artists on the album."
What are some of the key moments in your career so far? And do you have goals for 2018? 
"Key moments for the music side of my life were meeting some incredible artists who some have become close friends and provide input for new designs and products.  I am lucky that I can let my imagination run wild and develop new products such as our patented Aluminium Triple Row Guitar range, speaker cabinets, plus our custom designs. 2018 is my year of development and I hope to have more products to announce before the year is out!"