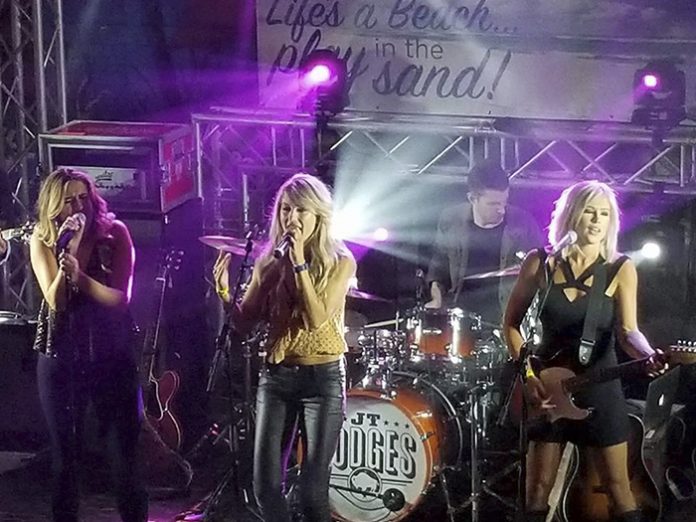 Early June was rocking in Music City. The hometown Predators were selling out the Bridgestone arena for the Stanley Cup finals, and the Country Music Awards celebration was in full swing.
Although the city's hockey team came up a little short in its championship quest, the CMA festivities were all they were cranked up to be, as Nashville's downtown rang out with parties and festivals during the awards weekend.
Among the hottest CMA celebrations was the one at Piranha's, a 10,000 square feet sports bar and music hall on Second Avenue, where 38 bands performed over three days, supported by a Jeff Hinton-designed light show that featured Chauvet DJ Intimidators.
Hinton used six Intimidator Beam LED 350 and six Intimidator Spot 255 IRC fixtures in his design for the Johnny B Enterprises-produced event. He flew his moving lights on two different levels of overhead truss and also positioned them behind the drum riser to engender a greater sense of depth of stage.
Having varied lighting positions also allowed him to meet the critical need for flexibility in his design. "A key challenge in this design was to keep my looks changing and interesting over a three-day 38-band festival," he said. "We did this in part by creating a lot of different light angles."
The gobo capabilities, built-in macros and wide zoom range of his fixtures also allowed Hinton to serve up an array of different looks that supported the varying musical styles of the artists on stage.
Beyond this flexibility, though, was the intense output that Hinton got from his Intimidator fixtures. "These are incredibly powerful lights," he said. "Between their intense output and vivid colours, they make a real statement. This was important, because with all that was going on in Nashville that weekend, any show you did had to stand out." concluded Hinton.