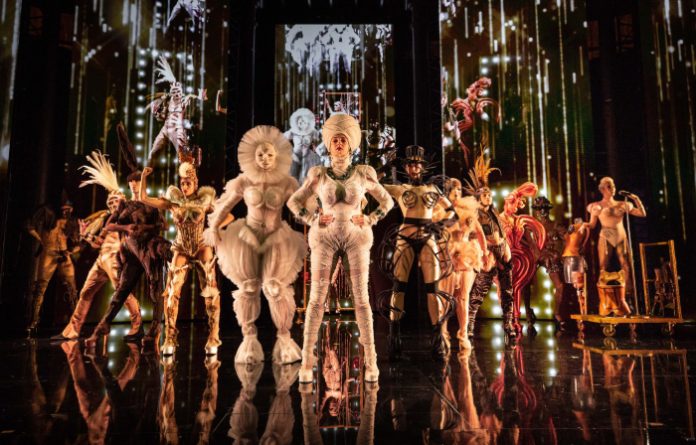 As planning began for Jean Paul Gaultier's Fashion Freak Show the creative team behind the project knew the production needed to encapsulate the essence of the renowned designer's life, a life far from ordinary. Located at the unique Roundhouse Theatre in London from 15 July to 28 August 2022, the production required an audio experience that could cater to the theatricality of the show as well as address many acoustic issues the show presented, all challenges that d&b Soundscape could provide a solution for.
Since debuting in 2019 at Folies Bergère in Paris, Fashion Freak Show has taken audiences through a 50-year outlandish, passionate and larger than life experience of pop culture, through the eyes of renowned fashion designer Jean Paul Gaultier. Richard Brooker, Sound Designer for the show and Stage Sound Services worked together to ensure audiences at London's Roundhouse theatre experienced an immersive world filled with excess, poetry and magic. From the get-go, it was clear to Brooker that no ordinary sound system would be sufficient for a show of this grandeur.
"Because Fashion Freak is so dynamic to look at, I wanted the sound to have similar depth, rather than have a 2D feel," explained Brooker. "We wanted a large dynamic range as there are quite intimate meaningful moments during the production, as well as large dance numbers. I had heard a lot about d&b Soundscape and knew that this could provide a totally different element to the production."
d&b Soundscape creates immersive audience experiences using a modular platform and an object-based workflow to deepen the connection between sound and visuals. Powered by the DS100 Signal Engine, a system processor, the d&b Soundscape provides unparalleled creativity through its two software modules En-Scene and En-Space.
Brooker utilised d&b En-Scene, a sound object positioning tool to allow for the individual placement and movement of up to 64 sound objects. "I was able to move different elements around, which made it feel like the sound was actually coming from the screens, while also setting the sound of tracks exactly where I wanted them, creating different layers and depths of positioning," commented Brooker. "This made the audience feel like they weren't just at the cinema watching something coming at them but instead they were seated in the middle of a 360° experience."
The d&b Soundscape system provided by Stage Sound Services, consisted of 66 total Y-Series loudspeakers. Along the side coverage of the house in five drops of ten Y12s, two drops of Y8s, as well as three drops of 4V and B6-22 subwoofers throughout the venue.The lighting and video rig for the show was expansive, so the audio system needed to be flexible enough that it would be rigged without blocking any of the video elements. Additionally, given the unique round shape of the London venue complete with bleacher seating, table and chairs, shallow stages, and long walkways, the venue required a system that ensured sound would reach every member of its audience. "With d&b Y-series we were able to place the correct size loudspeaker in each location while ensuring it remained out of sight lines," said Brooker. "This, alongside Soundscape, meant that the same show was delivered no matter where viewers were seated."
Brooker received support from Mike Beer, Stage Sound Services in addition to Jack Page, Education & Application Support at d&b and Adam Hockley, Business Development at d&b throughout the installation process. "I truly enjoyed the Soundscape system, it provided a completely different element to the show to really bring it to life," concluded Brooker. "I look forward to using it on my next production."